Trip Summary and Itinerary Map
2 full days exploring the coast of Iceland
1 full day exploring Jan Mayen
3 full days exploring Svalbard
Kayaking option is available for the adventurous
Single departure
Landmarks potentially visited on Iceland to Jan Mayen and Svalbard
Operator's Itinerary
Day 1: Reykjavik, Iceland
After making your own way to Reykjavik pier, embark your vessel in the late afternoon.
---
Days 2 & 3: West and North-West Iceland
One third of Iceland's coastline is in the Westfjords, and the entire peninsula is carved and cut by long fjords. The Westfjords region is home to Latrabjarg; the westernmost point in Europe, and one of the continent's most remarkable seabird breeding cliffs, a delight for birdlovers. It is one of the best places in Iceland to photograph puffins, an opportunity you'll have on a Zodiac cruise, weather permitting.
The small town of Safjarur is the largest town in the Westfjords peninsula, with some 2,600 inhabitants. It is an ancient church site and has been a trading post since the 16th century. The growth of the town was triggered by salt fish production and fishing industry still remains the town's main activity, along with tourism which has grown significantly in recent years.
Nearby Hornstrandir nature reserve is a peninsula accessible only by boat or by foot and inhabited by Arctic foxes, seals, birds and the occasional hiker. There is a planned Zodiac cruise along the shoreline of Hornstrandir nature reserve and attempted landing, subject to approval by the park ranger.
---
Day 4: At Sea
Cross the Denmark Strait to Jan Mayen island accompanied by sea birds while keeping a look out for whales. Enjoy a presentation from the team of experts, get to know your fellow expeditioners, work out at the gym or treat yourself to a massage in the wellness centre.
---
Day 5: Jan Mayen
The approach to Jan Mayen is spectacular. The huge Beerenberg volcano (2,277 metres/7,470 feet altitude) is the world's northernmost active volcano, and last erupted in 1985. The northern part of the island is a great place to look for whales and dolphins, and contains impressive glaciers, some of which reach the sea.
If the weather is friendly, the crew will try to land at Kvalrossbukta, a relatively sheltered bay on the island's west coast. This is one of the landings used to supply the weather station Olonkinbyen, situated on the eastern side of the island. The hope is to land on front of the Norwegian station at Olonkinbyen, stopping to visit the weather station before embarking on a three-hour hike (weather permitting) to the other side of the island where your vessel will be waiting for you in Kvalrossbukta, and the trusty Zodiacs will transport you back to the ship.
---
Days 6-7: At Sea
The sea around Jan Mayen offers excellent whale-watching opportunities (bottlenose, fin, and perhaps bowhead whales in the pack ice). Sail towards Svalbard, searching for the ice edge as you continue north, retracing the route of Dutch explorer Willem Barents who discovered Spitsbergen and the Barents Sea, named after him. It's breeding season for the harp seals and hopefully you'll see them breeding on the sea ice. As you approach Svalbard, all eyes will be focused on spotting polar bears in the pack ice.
---
Days 8-10: Northern Svalbard & Northwest Corner of Spitsbergen
You will aim to cross 80 degrees North, always on the lookout for polar bears on the pack ice, to reach Moffen Island, famous for its large walrus colony. In the coming days, depending on the weather and sea ice conditions, you may explore sites including the incredibly scenic Kongsfjorden (Kings Bay), a fjord headed by two giant glaciers.
Perhaps spend time ashore to hike on the lush tundra amongst the early summer flowers and observing the remarkable bird cliffs near the 14th July Glacier, where puffins nest between the cracks in the cliffs. Keep watch for polar bears and Arctic fox and feel a sense of history at the 350-year-old remains of a Dutch whaling settlement, Smeerenberg. You may visit Raudfjord which features fascinating geology, glaciers and bird cliffs. A possible hike on Ytre Norskya offers splendid views to the north coast of Spitsbergen and maybe even to the North Pole in clear weather!
---
Day 11: Longyearbyen
During the early morning cruise into Longyearbyen. Farewell your expedition team and fellow expeditioners as you all continue your onward journeys. Enjoy a town tour of Longyearbyen before a transfer to the airport in the afternoon.

---
NOTE: This itinerary is for guidance only. Each voyage will vary depending on ice and weather conditions, and opportunities to see wildlife. Flexibility is key and all part of the adventure of an expeditionary cruise.
About The Ship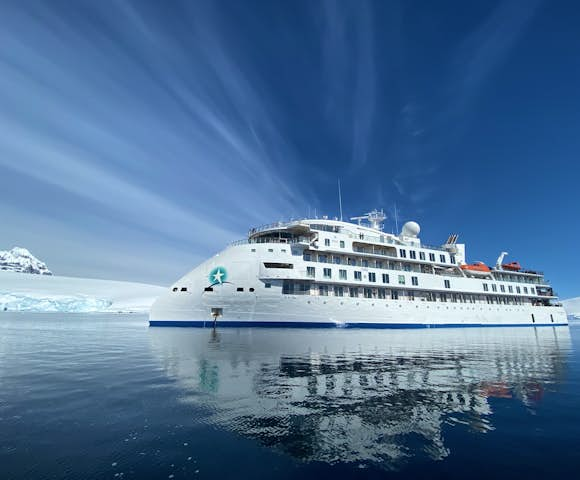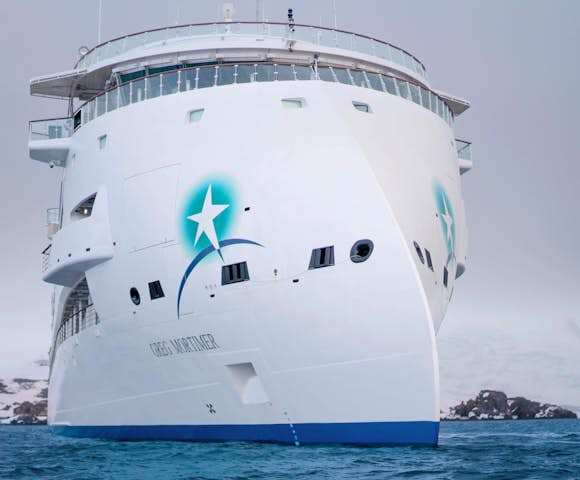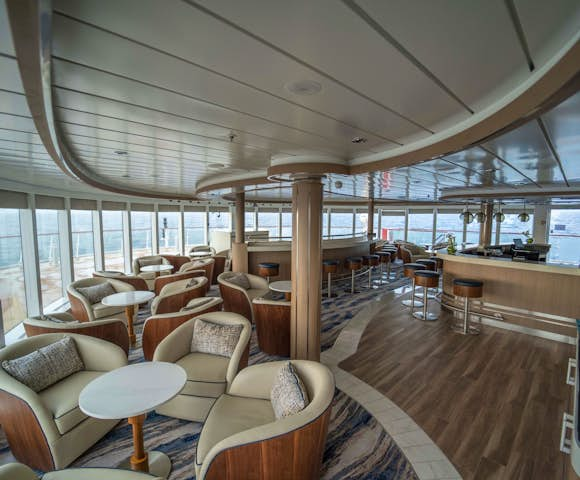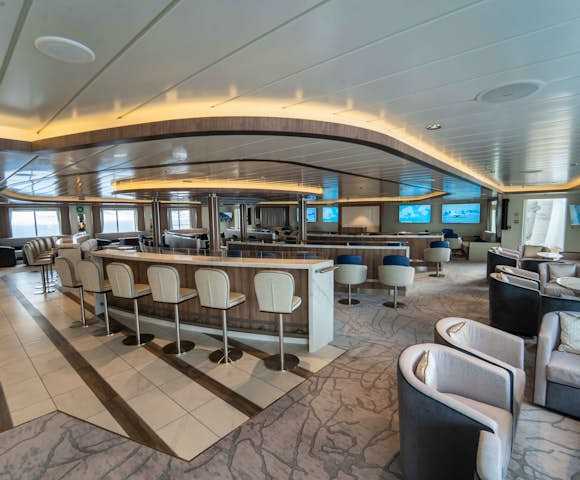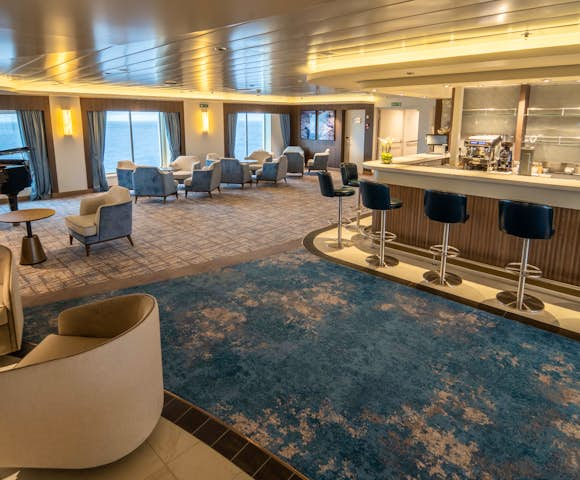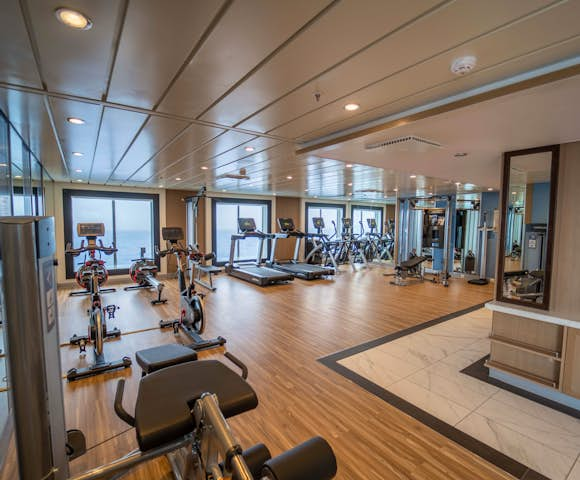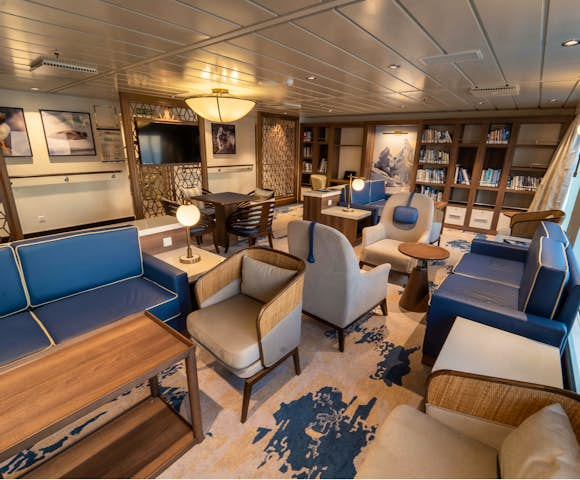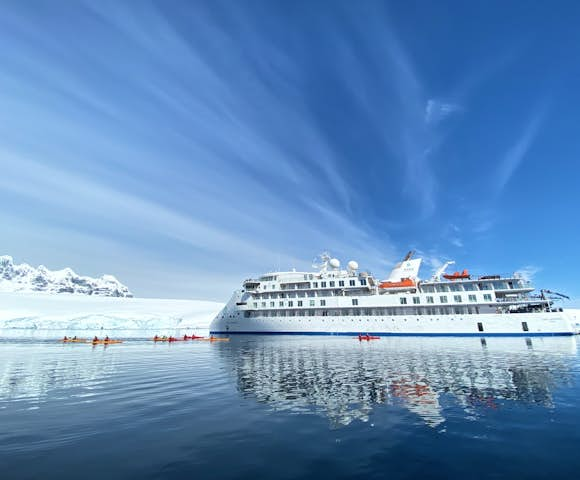 The X-BOW design isn't only eye-catching, it also means a smoother ride and a lower carbon footprint
Average capacity of 132 passengers is small for a brand new ship and a highly experienced expedition team of 15 - 18 people will deliver a very personalised experience for all on board
A great range of cabin categories, 80% of which have balconies
Small number of passengers and multiple zodiac loading bays means great chance of spontaneity and faster zodiac logistics
Optional kayaking is always popular, while this is one of only a few ships to also offer scuba diving, polar snorkelling, SUP and rock climbing on selected voyages
Prices, Departures and Inclusions
Prices quoted below are per person based on 2 people sharing. Cabin availability changes all the time so please contact us for up-to-date details and information on specific cabin availability.

This trip can run as a group trip, with prices starting from $4,577 per person for a complete group. If you are looking to join a group or you are a solo traveller we will help to form likeminded groups of travellers. Please let us know your travel plans.
The trip can also run on a private basis to fit around your plans. Departures may be tailored and can be set up on a date of your choice. Please note that there is a higher price for smaller groups. Please enquire for further details.
Additional Notes
Optional Adventure Activities

Sea Kayaking (AUD $1,200 per person) – basic ability required
Single Supplement And Child Policy
For those travelling solo who would like their own cabin, the single supplement in a twin cabin is 1.7 times the cost of a single berth. However, there is no single supplement for passengers willing to share a cabin.
At date of embarkation, the minimum age restriction of 8 years and a minimum height and weight requirement of 64 lbs or 29kg and 48" or 1.2 meters must be met.
Includes
Half day tour of Longyearbyen upon disembarkation on day 11

On-board accommodation during voyage including daily cabin service
All meals, snacks, tea and coffee during voyage
Beer, house wine and soft drinks with dinner
Captain's Welcome and Farewell drinks including a four-course dinner, house cocktails, house beer, wine and non-alcoholic beverages
All shore excursions and Zodiac cruises mentioned in the itinerary
Educational lectures and guiding services from expedition team
Access to our onboard doctor and basic medical services
A 3-in-1 waterproof polar expedition jacket
Complimentary loan of muck boots during the voyage
Comprehensive pre-departure information
A digital photo book produced with photos and ship logs from your voyage
Excludes
International or domestic flights unless specified
Transfers not mentioned in the itinerary
Airport arrival or departure taxes
Passport, visa, reciprocity fees and vaccination charges
Travel insurance or emergency evacuation charges
Hotels and meals not included in itinerary
Optional excursions not included in the itinerary
Optional activity surcharges
All items of a personal nature including but not limited to: alcoholic beverages and soft drinks (except during dinner), laundry services, personal clothing, medical expenses, gratuities, Wi-Fi, email, or phone charges.
Gratuities for ship crew
Questions about this Voyage?