Why we like the Janssonius
4* accommodation with a maximum of 170 passengers
Modern and elegant style, yet retains an informal and cozy atmosphere
Multiple language lectures and presentations delivered on a dedicated deck
Speedy embarkation via indoor Zodiac embarkation platforms with two separate gangways allowing for and easy access to outdoor activities such as kayaking

Large observation lounge

, ideal for viewing the Arctic's spectacular wildlife
Reaches a top speed of 15 knots with two main engines
Alex says
Grand Suite
Located on Deck 7
Approximately 27m² (290ft²)
1 double window
1 double bed
Sofa Bed
Private balcony with sliding door
Private shower & toilet
Flat screen TV
Telephone and WiFi
Refrigerator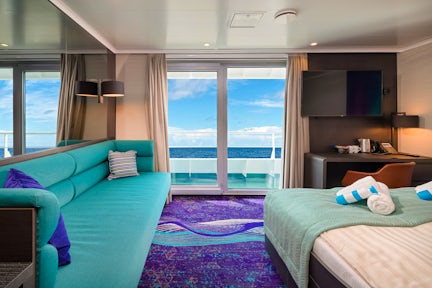 Grand Suite, Hondius
Junior Suite
Located on Deck 7
Approximately 19-20m² (204-215ft²)
1 double window
1 double bed
Private shower & toilet
Flatscreen TV
Desk & chair
Telephone and WiFi (supplemented)
Refrigerator, coffee & tea maker
Hair dryer, cabinet, wardrobe, safe
Junior Suite, Hondius
Superior
Located on Deck 7
Approximately 20-21m² (215-226ft²)
All Superior cabins have double beds
Two windows and lounge area with sofa and mini-fridge
All Superior cabins have a sofa bed and are capable of accommodating 3 people
Private shower & toilet
Flat screen TV
Telephone and WiFi
Refrigerator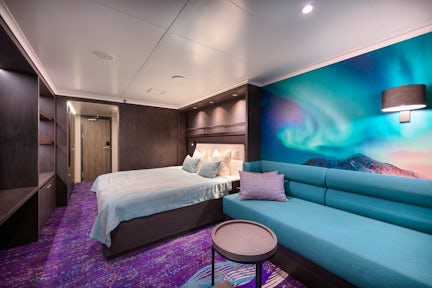 Superior Cabin, Hondius
Twin Deluxe
Located on Deck 6 and are slightly larger versions of the Twin Window cabin
Approximately 19-21m² (204-226ft²)
Two windows facing to the rear and side
2 single beds
Sofa
Private shower & toilet
Flat screen TV
Telephone and WiFi
Refrigerator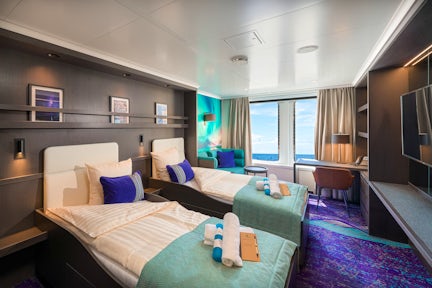 Twin Deluxe Cabin, Hondius
Twin Window
Located on Deck 4
Approximately 12-14m² (129-150ft²)
1 window - all port-side window cabins have unobstructed views. All starboard side window cabins have partially obstructed views.
2 single beds
Small sofa
Private shower & toilet
Flat screen TV
Telephone and WiFi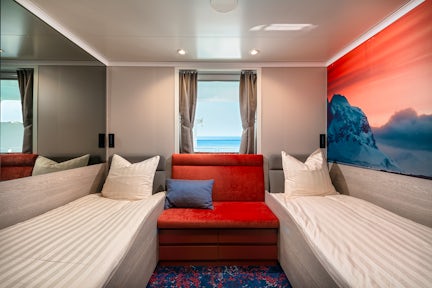 Twin Window Cabin, Hondius
Twin Porthole
Located on Deck 3
Approximately 12-18m² (129-193ft²)
Twin beds with porthole
Small sofa

Private shower & toilet
Flat screen TV
Telephone and WiFi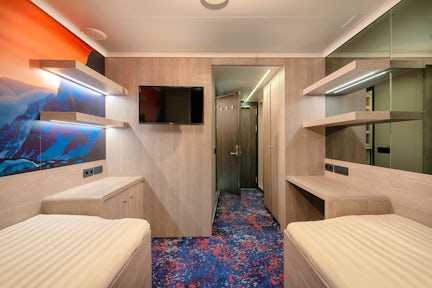 Twin Porthole Cabin, Hondius
Triple Porthole
Located on Deck 3
Approximately 12-18m² (129-193ft²)
Bunk-beds and porthole
1 upper berth & 2 lower berths
Small sofa
Private shower & toilet
Flatscreen TV, telephone and WiFi
This cabin is suitable for families travelling with children, or passengers who do not require a twin or more luxurious cabin
Quadruple Porthole
Located on Deck 3
Approximately 16m² (170ft²)
Bunk-beds and porthole
2 upper & lower berths
Small sofa
Private shower & toilet
Flat screen TV, telephone and WiFi
This cabin is suitable for families travelling with children, or passengers who do not require a twin or more luxurious cabin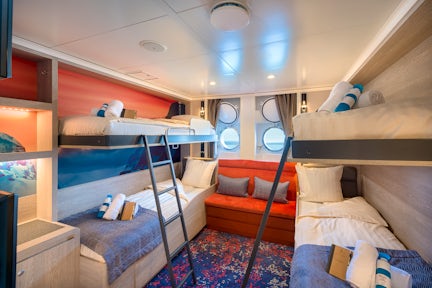 Quadrable Porthole Cabin, Hondius
Onboard Communication & Facilities
Even in the Arctic, you can stay in touch - choose from the options below:
Internet & WiFi: Vouchers are sold onboard for: EUR7.50/20mb; EUR18/50mb; EUR35/100mb; EUR150/500mb. A standard email account set-up fee of EUR5 applies and the following charges will also be added: EUR15/7-10 days; EUR20/11-12 days; EUR25/18 days; EUR50/30 days
Telephone: International calls can be made from your cabin. Cards can be purchased from the Reception Desk for EUR25, which allows approximately 25 minutes call time.
Please note that this is only for light data traffic.
Plugs: European 220V two-round-pinned sockets
Towels, toiletries and hair dryers
Laundry service (additional cost)
Find Your Arctic Ship
Making the correct choice of ship is key. With firsthand experience of all of the ships we offer, let Swoop help guide you to exactly the right one.
Find your Arctic Ship
Ready to Book Your Arctic Adventure?
1
Listen
We'll spend some time listening to your aspirations, then discuss the kind of experience that might suit you.
2
Match
Next we'll discuss the options, shortlist the best trips for you and present you our impartial recommendations.
3
Reserve
We'll place a 24 hour hold on your preferred option - without obligation - whilst we talk through the details.
Our team of experts are ready to help you with any questions about a trip to the Arctic.