Why we like the Roald Amundsen cruise ship
Purpose built expedition ship designed to carry 530 guests in comfort with facilities to match and an ability to provide excursions for all

Go anywhere capability with icebreaker strength

Carefully designed to immerse guests in the destination with science centres, lecture theatres and a host of expert guides

A huge range of cabins gives a choice to everyone

Three restaurants, a sauna and spa makes an expedition feel like a holiday too
A two level indoor/outdoor observation deck means you will miss nothing
A hybrid-powered ship with zero single use plastic onboard – every effort is made to make trips as green as possible
Trips aboard the Roald Amundsen
Cabin Categories
Expedition XL Suite w/ Balcony
Extra Large Corner Suite (46-48m²) with balcony
Upper and mid-deck locations
Features flexible sleeping arrangements with comfortable sofa, sitting area, TV and expansive window
Includes bathrobes, espresso maker, minibar and welcome gift
Accommodates up to four passengers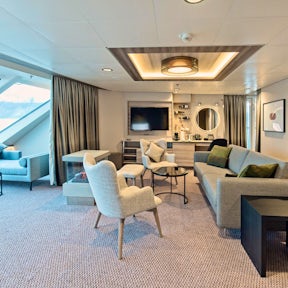 Expedition XL Suite with balcony
Expedition XL Suite
Extra Large Corner Suite (44m²)
Upper and mid-deck locations
Features flexible sleeping arrangements with comfortable sofa, sitting area, TV and expansive window
Includes bathrobes, espresso maker, minibar and welcome gift
Accommodates up to four passengers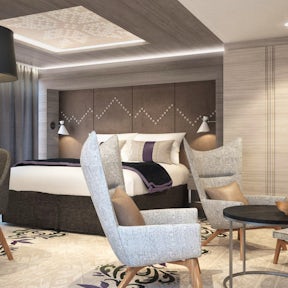 Expedition XL Suite
Expedition Suite w/ Balcony
Suites with private balcony, sizes between 20-28m²
Upper and mid-deck locations
Features flexible sleeping arrangements, some with sofabed, all with TV and large window
Includes bathrobes, espresso maker and minibar
Accommodates up to four passengers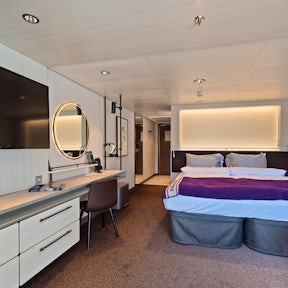 Expedition Suite with balcony
Expedition Corner Suite w/ Balcony
Aft Corner Suite with private balcony and hot tub, sizes between 20-30m²
Upper and mid-deck locations
Features flexible sleeping arrangements, some with sofabed, all with TV and large window
Includes bathrobes, espresso maker and minibar
Accommodates up to four passengers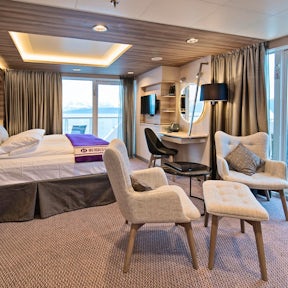 Expedition Corner Suite with balcony
Expedition Large Suite w/ Balcony
Large suite with private balcony, sizes between 20-28m²
Upper and mid-deck locations
Features flexible sleeping arrangements, some with sofabed, all with TV and large window
Includes bathrobes, espresso maker and minibar
Accommodates up to four passengers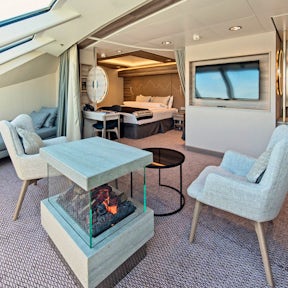 Expedition Large Suite with balcony
Expedition Corner Suite
Corner suite with large windows, 22m²
Upper and mid-deck locations
Features flexible sleeping arrangements, some with sofabed, all with TV and large window
Includes bathrobes, espresso maker and minibar
Accommodates up to four passengers
Expedition Corner Suite
Arctic Cabin w/ Balcony
High deck cabins with private balcony, sizes between 15-19m²
Features flexible sleeping arrangements, some with sofabed, all with TV
Accommodates up to four passengers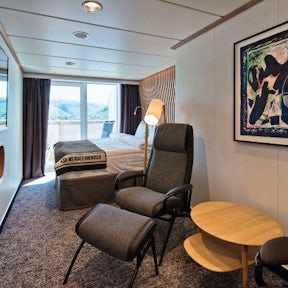 Arctic Cabin with balcony
Arctic Cabin
Spacious cabins without balcony, sizes between 15-19m²
Lower/middle decks
Features flexible sleeping arrangements, some with sofabed, all with TV
Accommodates up to four passengers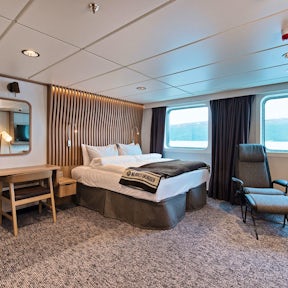 Arctic Cabin
Larger Polar Cabin
Spacious cabins without balcony, sizes between 19-23m²
Middle decks
Features flexible sleeping arrangements, some with sofabed, all with TV
Accommodates up to four passengers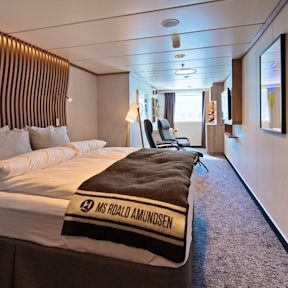 Larger Polar Cabin
Smaller Polar Cabin
17m² cabins without balcony
Middle decks
Double bed and TV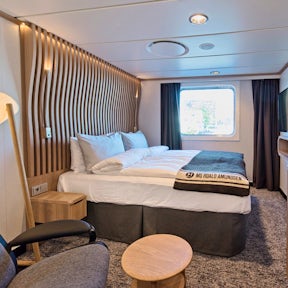 Smaller Polar Cabin
Cassia says
Communal Areas
Of the stunning design throughout one of the most impressive features is the two-level indoor/outdoor observation deck, where you'll be sure to collect many memories watching wildlife, admiring the views, and enjoying good company.
The science centre is another highlight, equipped with state of the art technology and gadgets provided to ensure the deepest understanding for the areas you're visiting. There are lecture spaces, a library, and speciality areas for workshops in photography, biology and more. When you can pull yourself away from the discoveries to be made on deck and in the science centre, relax in the explorer lounge, the gym and wellness centre, a hot tub, or the infinity pool.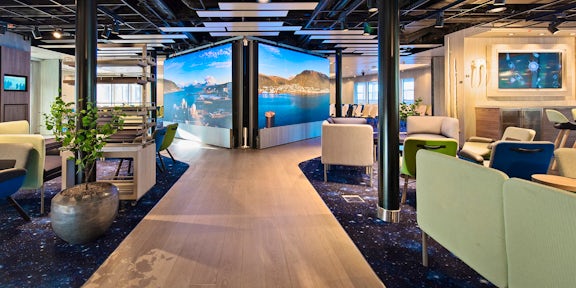 Science Center
Roald Amundsen Deck Plans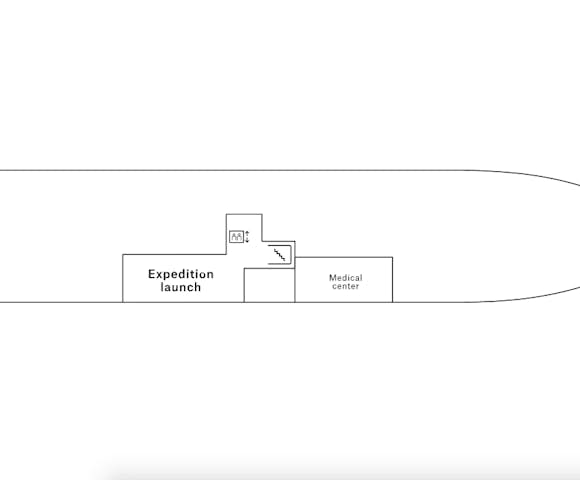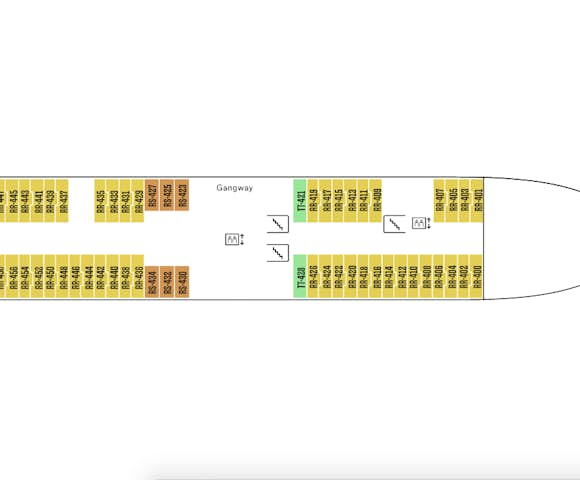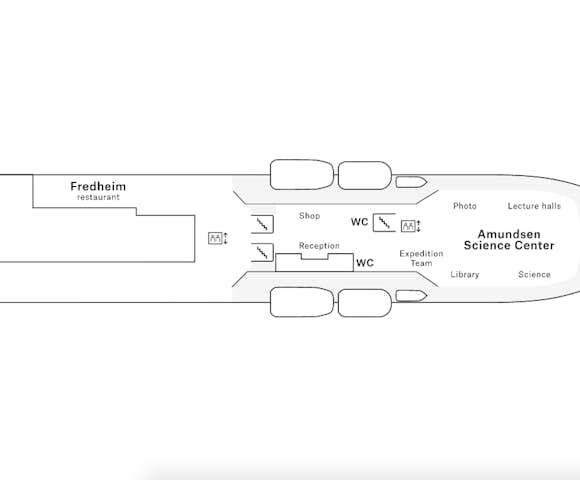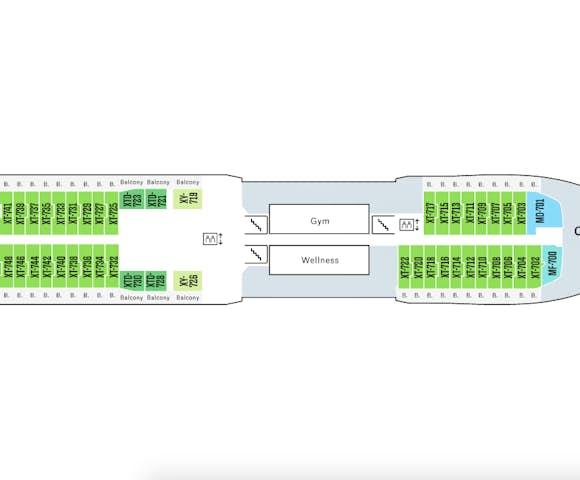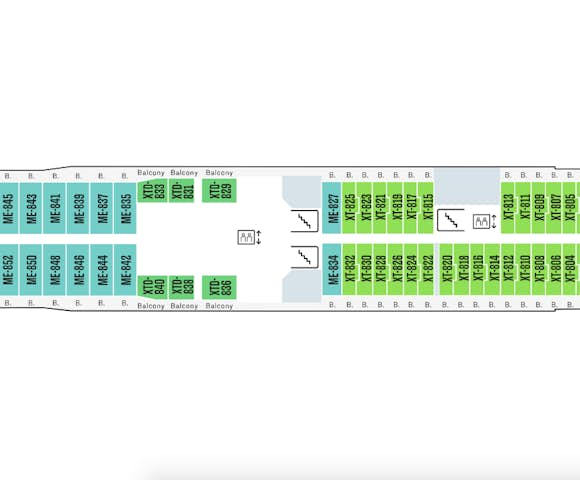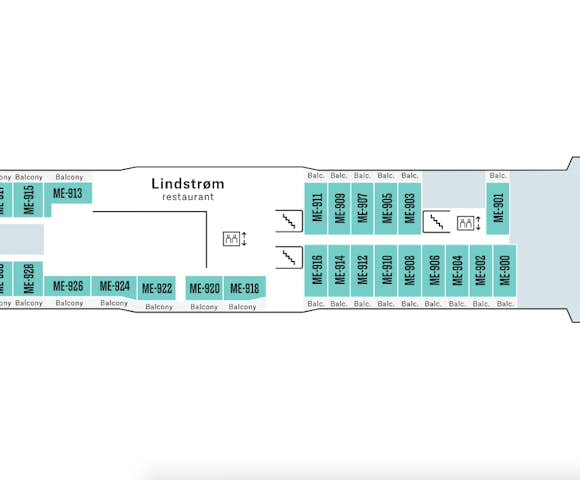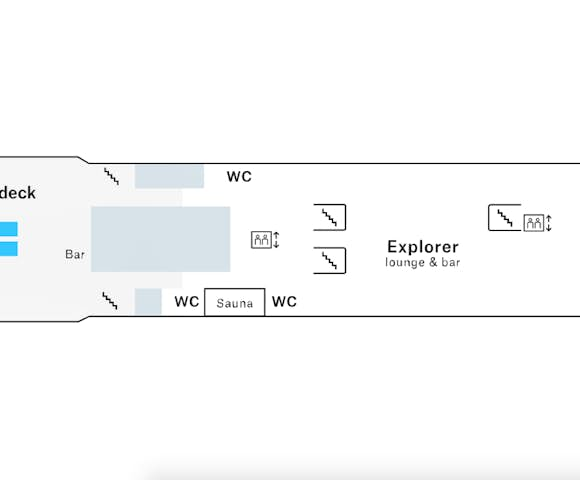 Technical Specifications
​Passenger capacity: 530 passengers
Ice​ class rating: 1A
Size​: 140m long x 23m wide
Draft: 5
Built in: 2018
Other key features: Three restaurants inspired by Nordic and Norwegian heritage
Onboard Communications
The electrical supply aboard the ship is 220v, 50Hz. Electrical outlets are standard European two pin plugs. Suites have 110v shavers. You may need a 220v/110v converter.

Find Your Arctic Ship
Making the correct choice of ship is key. With firsthand experience of all of the ships we offer, let Swoop help guide you to exactly the right one.
Find your Arctic Ship
Ready to Book Your Arctic Adventure?
1
Listen
We'll spend some time listening to your aspirations, then discuss the kind of experience that might suit you.
2
Match
Next we'll discuss the options, shortlist the best trips for you and present you our impartial recommendations.
3
Reserve
We'll place a 24 hour hold on your preferred option - without obligation - whilst we talk through the details.
Our team of experts are ready to help you with any questions about a trip to the Arctic.