Things to consider
Almost any boat based trip to the Arctic is likely to encounter whales, with 17 different species to be found across the top of the world
Hot spots include Disko Bay in West Greenland, as well as Svalbard where summer currents rich in nutrients attract cetaceans from across the globe

The Northwest Passage is home to 75% of the global narwhal population
Beluga congregate in huge numbers in Hudson Bay over the summer months of July and August
Travelling on a boat with plenty of deck space is key to ensuring you get the best of any sightings

Where to see whales in the Arctic
Svalbard & the Norwegian Arctic
Most famous for polar bear sightings, Svalbard is often overlooked as a whale watching destination. It's true that there is a dark history when it comes to man's relationship with whales, and the remains of whalers stations such as Smeerenberg and Bamsebu are testament to the slaughter. In recent years, however, it is a much happier story where the rich waters attract humpbacks, fin, minke, blue and beluga whales and numbers are growing year by year.
Northern Norway in the latter months of the year becomes a rich hunting ground for humpbacks, fin and especially orca as they follow the herring's migration routes. It was also be a great time to see the aurora borealis.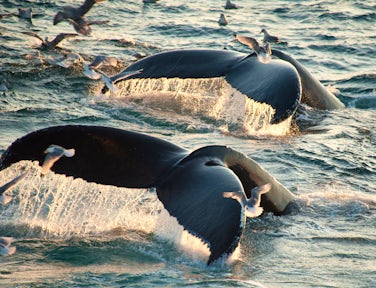 Humpback whales dive in sync
Svalbard & Norway whale-watching trips
Northwest Passage
Lancaster Sound, a wildlife superhighway, opens each year for a couple of months as the ice retreats, allowing boats to navigate the channels that make up the Northwest Passage. Along this edge of ice runs a rich seam of zooplankton, a particular favourite of the massive bowhead whale who can eat up to 100 tonnes of them a year.

In the shallow water, narwhal and beluga hunt fish and shrimp and stay away from orca as best they can. Expeditions to the Northwest Passage offer amazing opportunities to see these rare cetaceans and many trips start or end in West Greenland, adding Disko Bay which is famous for its humpbacks, to the spectacle.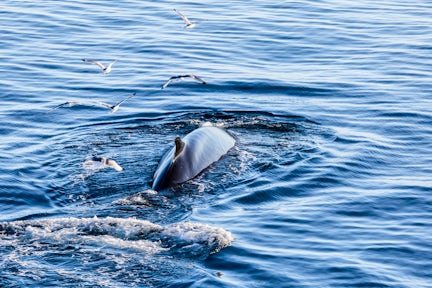 Northwest Passage whale watching trips
Churchill & the Canadian Arctic
For just a couple of months in late summer (July & August) thousands of beluga whales gather in Hudson Bay to feast on the rich waters of the Churchill River and to calve in the shallow, relatively warm waters. This amazing migration allows you to get up close to these cetaceans, affectionately known as sea canaries, either by boat, kayak or even by getting in the water with them.

Further north there are ice camps where you can catch sight of the elusive narwhal or 'Unicorns of the Sea' as they follow the ice edge during May and June. These trips also offer the chance of polar bears and beluga in one of the remotest corners on the planet.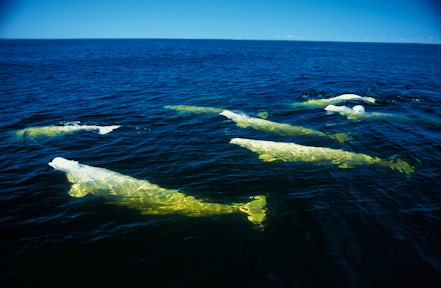 Beluga whales in Hudson Bay
Canadian Arctic whale watching trips
Greenland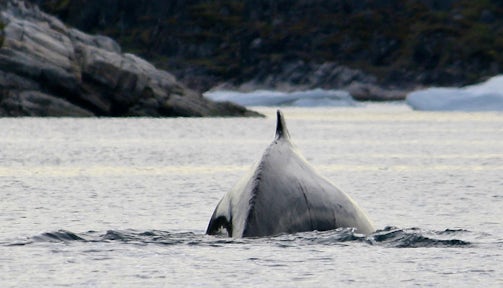 Humpback whale in Disko Bay, Northwest Passage
While much of Greenland is ice trapped during the winter months, when the sun appears and the sea starts to move again the waters quickly fill with life. There are now fifteen species of whale that frequent these waters. While the beluga, narwhal and bowhead remain year round, the other species including humpback, minke and fin only pass by in warmer months.

In recent years the number of bowheads sighted in East Greenland has grown substantially. This magnificent mammal can live for 200 years (as evidenced by the find of an ancient harpoon found in an animal that had died of old age) and grow up 20m (66ft) long!

In West Greenland, Disko Bay becomes the humpbacks playground in the summer as they chase down herring-type fish in their tens of thousands. In the capital, Nuuk, it is not unheard of for residents to complain of a lack of sleep due to the noise made by humpback whales in the bay!

Greenland whale watching trips
Swoop says
We'd really recommend choosing a trip that allows you to kayak in the presence of whales. There's nothing like being that close, with no sound but your paddles and the graceful rise and fall of these giants in the water.

Find Your Arctic Ship
Making the correct choice of ship is key. With firsthand experience of all of the ships we offer, let Swoop help guide you to exactly the right one.
Find your Arctic Ship
Ready to Book Your Arctic Adventure?
1
Listen
We'll spend some time listening to your aspirations, then discuss the kind of experience that might suit you.
2
Match
Next we'll discuss the options, shortlist the best trips for you and present you our impartial recommendations.
3
Reserve
We'll place a 24 hour hold on your preferred option - without obligation - whilst we talk through the details.
Our team of experts are ready to help you with any questions about a trip to the Arctic.