Operator's Itinerary
Day 1: Paris of the North
Your adventure begins in Tromsø, nicknamed the "Paris of the North," located in an area rich with Norse and Sámi history. Enjoy exploring this sub-Arctic Norwegian town, said to have been inhabited since the last ice age. Board the vessel by 1700, with the aim aim to depart from Tromsø in the evening.
---
Day 2: In Search of Norway's Whales
The itinerary depends largely on the weather conditions, the amount of daylight during the voyage, and the expected location of the whales. You might sail clockwise or counter-clockwise around the island of Senja.

---
Days 3-6: Whales of the Shelf
You spend the next several days along the north coasts of Senja and Andfjorden, areas where many whales have been spotted in recent years. Keep a look out for sperm whales and other whale species here. Near Andenes, along the edge of the continental shelf, whales dive particularly deep to feed on giant squid. You may also see white-tailed eagles, one of the largest birds of prey in Europe, vying for their share of the herring.
In the afternoon, you find a place for the night in one of the scenic fishing villages nearby, such as Skrolsvik, Andenes, Gryllefjorden, Hamn and/ or Sommarøy. Once the sun has set, you can take a short hike along the coast or in small villages – and maybe even catch sight of the aurora.
---
Days 7-8: Under the Northern Lights
Continuing your circumnavigation of Senja, you sail to the small island of Sommarøy. Here there are good opportunities to see the northern lights as well as embark on pleasant hikes. You spend the last morning of the cruise exploring the island's small bays and white beaches.
On day seven, you sail back to Tromsø and arrive around midday. You'll have enough time to shop for souvenirs in town, visit a museum, or simply take a walk in the fresh winter air.
After spending the last night on board, you disembark on day eight (Saturday) with memories that will accompany you wherever your next adventure lies.
---
Your Voyage
The expedition leader will determine the final itinerary during the welcome briefing on day one. There are two possible routes that may be taken in order to increase the chances of wildlife sightings: the route described and an alternative northern route to the Kvaenangen fjord.
The chances of seeing orcas are minimal, while the odds of encountering other species (like humpbacks) are higher. Whale watching (orcas and humpbacks) is highly dependent on the variable herring stocks in the area, and this is ultimately unpredictable. The expedition leader will adapt the sailing plan to maximize your chances of seeing whales. Other whales (i.e., sperm whales) are not dependent on herring, which is why you will have a good chance of seeing them in specific areas, for instance near Andsnes.
During winter the daylight is limited, but the nighttime hours are far from wasted: North Norway is one of the best areas in the world to see the northern lights, a magical phenomenon that can only be fully appreciated when the sky is clear and dark, with minimal light pollution. This voyage offers ample opportunities to admire the auroras from the remote bays and fishing villages where you'll spend the night.
---
NOTE: This itinerary is for guidance only as each voyage will vary depending on ice and weather conditions, and opportunities to see wildlife. Flexibility is key and all part of the adventure of an expeditionary cruise.
About The Ship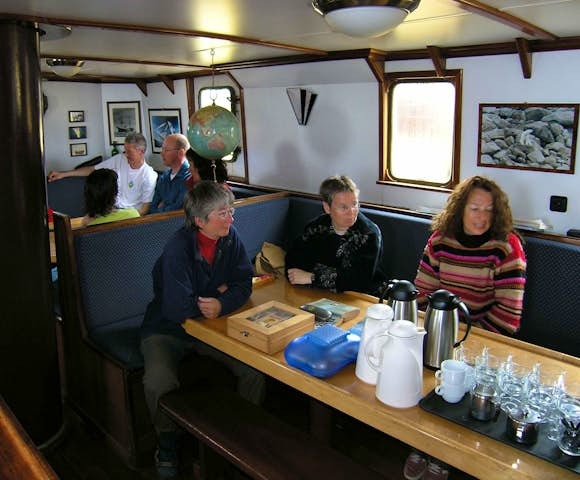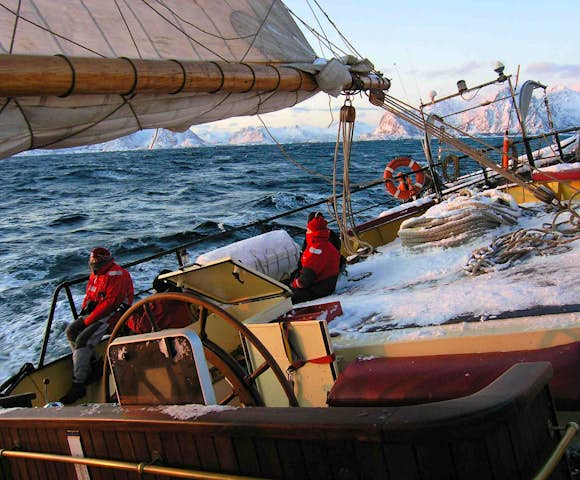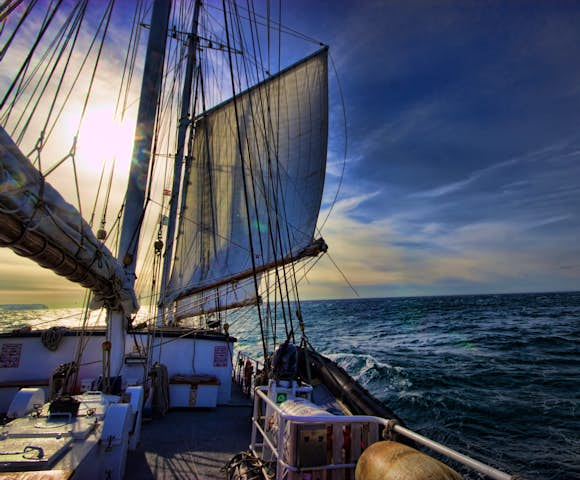 Sail in Arctic waters aboard a three-masted schooner built over 100 years ago
Massive appeal for active travellers and avid sailors alike
Sail with just 33 guests with a professional crew of 12
Arctic travel doesn't get much more exclusive than this
Enjoy land-based excursions accompanied by your expeditionary staff
Prices, Departures and Inclusions
Prices quoted below are per person based on 2 people sharing. Cabin availability changes all the time so please contact us for up-to-date details and information on specific cabin availability.

This trip can run as a group trip, with prices starting from $2,221 per person for a complete group. If you are looking to join a group or you are a solo traveller we will help to form likeminded groups of travellers. Please let us know your travel plans.
The trip can also run on a private basis to fit around your plans. Departures may be tailored and can be set up on a date of your choice. Please note that there is a higher price for smaller groups. Please enquire for further details.
Single Supplement And Child Policy
Single supplement: For those travelling solo who would like their own cabin, the single supplement is 1.7 times the cost of a single berth, please contact us for details. However, there is no single supplement for passengers willing to share a cabin.
Child Policy: At the date of embarkation, the minimum age restriction of 8 years and a minimum height and weight requirement of 64 lbs or 29kg and 48" or 1.2 meters must be met.
Includes
Voyage aboard the indicated vessel as indicated in the itinerary
Accommodation during the voyage on full board basis
All shore excursions and activities throughout the voyage by Zodiac
Educational lectures by expert onboard polar guides
Access to onboard doctor and basis medical services
All miscellaneous service taxes and port charges throughout the programme
AECO fees and governmental taxes
Entry feeds to historic landing sites
Comprehensive pre-departure material
Excludes
Flights to & from points of embarkation/disembarkation
Any additional services before & after your voyage
Transfers not specific to the itinerary
Travel insurance
Optional adventure activities
Any visa, passport and vaccination expenses
Airport arrival or departure taxes
Items of a personal nature: laundry, beverages, etc
Customary staff gratuity at the end of the voyage
Additional onboard purchases (i.e. gift shop, drinks)
Questions about this Voyage?