Reasons to visit Churchill
During October and November bear sightings are almost guaranteed as they wait for Hudson Bay to start to freeze when it becomes their ideal hunting ground
Nowhere else in the world can you get this close to polar bears in

total safety,

for you and the bears, by exploring in specially adapted vehicles
Churchill sits at the

edge of the inhabitable world

, it's a true frontier town with fascinating people and surprising opportunities (when did you last try curling?)
From January to March low humidity and clear skies make Churchill one of the

best places

on earth

to see the Northern Lights

During the summer months of July and August, Hudson Bay becomes a

mecca for beluga whales

who congregate in their thousands; by small boat or even kayak you get can come into very close proximity
Guide to Churchill
What makes Churchill so special?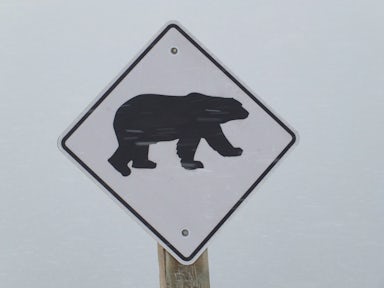 Potential for polar bears ahead
It's all down to location and a topographical quirk; a detailed map of the region will show that Churchill is located next to a nook in the coastline. With the anti-clockwise gyre of the northern polar winds the nook is the first part of Hudson Bay to freeze in late November and early December. The ice is an ideal haul out for seals and soon becomes a hunting ground for bears; that's why they gather in numbers and relative peace.
This freeze has another effect in the depths of winter as it locks away the major source of humidity in the region creating clear skies. With that comes sightings of the aurora above the boreal forest. The location has another card to play here, it's directly under the Van Allen belt giving, on average, 300 days a year when the aurora are overhead.

In the summer months when the ice has melted and the Churchill River flows freely beluga whales come to Hudson Bay in their tens of thousands to breed.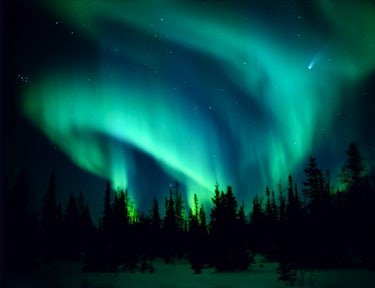 Lights over the boreal forest
When to visit
October and November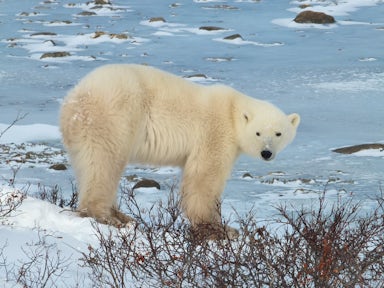 A polar bear in Churchill, the 'polar bear capital of the world'
If, like most visitors, it is the bears that you are planning to see then this is the only time to be there. If you want the best then we can tell you that ten days either side of 1st November is the optimum window. At this point, there is a critical mass of bears and the temperatures have dropped sufficiently for them to be active (when it is warmer they can be a touch on the lethargic side).

January to March
This is the best time and possibly the best place in the world to see the Northern Lights. As the aurora range from around 60 to 400 miles above ground level clouds are the biggest enemy of any spotter. With Hudson Bay frozen and such low humidity in mid winter clouds are far less likely and the location of Churchill under the aurora belt means that sightings are almost assured. Variable scenery and infrastructure designed for you to see them in warmth and comfort add to the experience.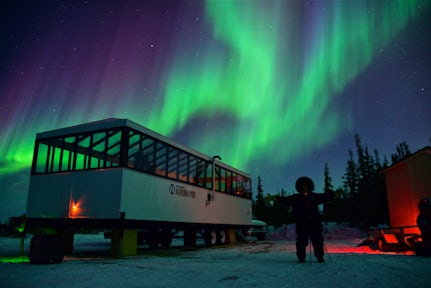 Northern lights over the Churchill tundra
July and August
One of the few periods when you don't need serious winter clothing and the ice has melted allowing up to 55,000 beluga whales to gather in the relative safety of the ice free bay. They are there to breed and calf in shallow waters and away from bears and orca. Around 3,000 congregate near Churchill allowing you to get close up to these vocal canaries of the ocean.

With such short windows for optimal viewing of all of these spectacles, dates can book up well in advance especially for the peak windows.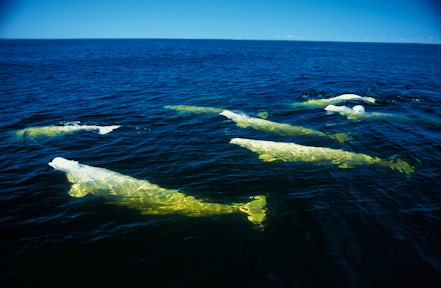 Beluga whales in Hudson Bay
Swoop says
For sheer intensity few other experiences in the animal kingdom prepare you for the black eyes of a polar bear staring you down at close range.
A day bear watching from Churchill
The day starts with a reminder of youth as a school bus collects you from your lodgings early in the morning. The polar rover station is a short drive from the town and here you will board your home for the day. With a driver and a experienced naturalist guide, this specially adapted, go-anywhere vehicle will take you into the protected conservation zones which are closely controlled with limited access for licensed vehicles only.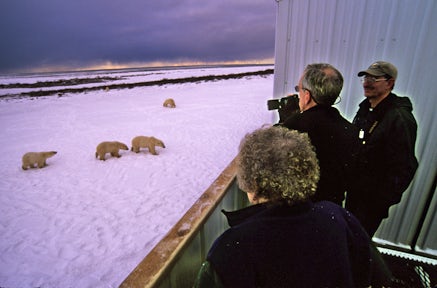 You'll spend around 4 hours out on the tundra spotting the bears and learning from your expedition guide about the bear drama that is unfolding around you. Bears are generally solitary creatures so for so many to be so close to each other creates some unusual displays. It's not all about the bears though so keep your eyes peeled for foxes, hares and birds as you explore.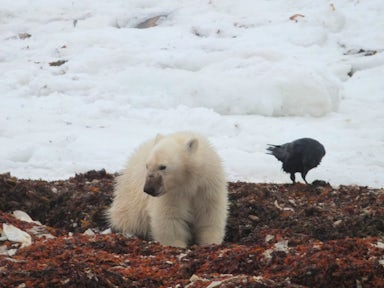 A cub explores the shoreline
What is a polar rover?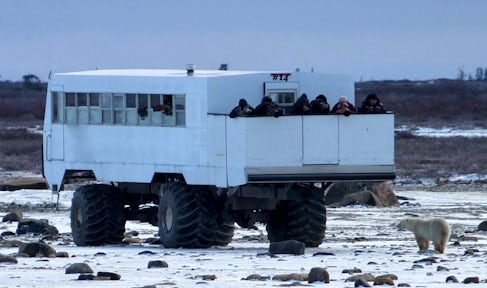 A curious bear approaches a tundra rover
Polar bears are apex predators and are not to be trifled with which means that safety, yours and theirs, is paramount to any trip. To achieve this the best way to view the bears is from a polar rover.

This is, in effect, an adapted school bus with some pretty unique features. For a start, they have been raised up on huge, go-anywhere, tyres. This not only allows them to explore the tundra but also raises the passengers out of reach of passing bears who can stand at 2.7m (9ft) in height.
To the rear, you will find a viewing platform that allows you to have a clear view of the wildlife without looking through glass. Under your feet you will find a metal mesh floor so you can see bears walking beneath you too.
Other features include a forward sloping front screen which enables you to look down on anything directly in front of you. You are going to spend a fair amount of time on board so you'll be pleased to know there is a bathroom!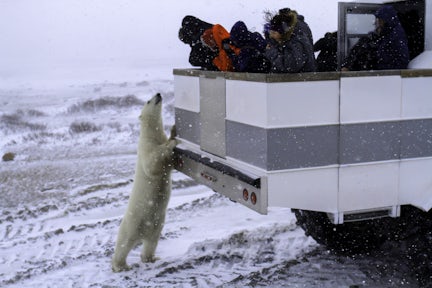 A selection of our favourite Churchill trips
What to expect and is it safe?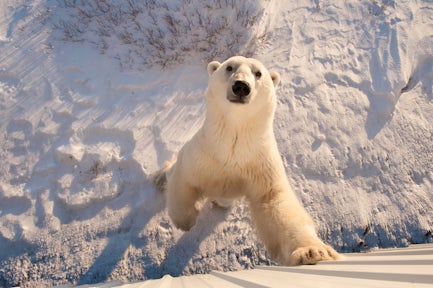 Unbelievably close encounters
Part of the excitement surrounding any wildlife trip is the unknown - will you see the animal or will it elude you? Churchill is slightly different in that polar bear sightings are all but guaranteed.
You can expect to be within 50-70 metres of bears and it is not unusual for bears to pass within a few metres of the vehicles. If you're really lucky, they will stand up to eyeball you and your fellow travellers.
What is 'bear drama'?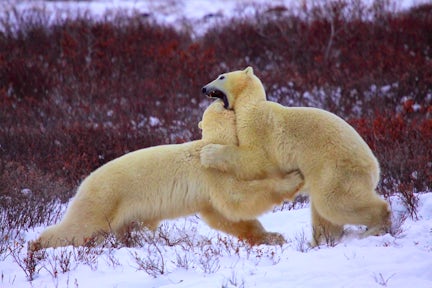 Bear take down
It's simply the interplay of bears with one another. When you have such a large population of animals in close proximity with one another anywhere in the world, you get activity as they 'bump' into one another.
Large males move and displace younger ones and mothers are perpetually worrying about the safety of their cubs as infanticide is a real risk. It is a fascinating world with many leading characters.
What other wildlife might I see?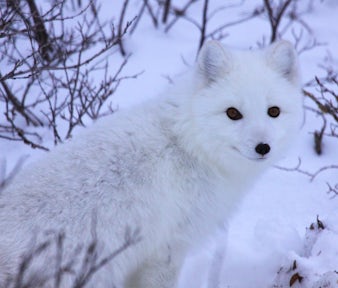 A small arctic fox in the snow
It's not all about the bears, or beluga. Arctic fox and hare are likely to be seen at any time of year. During the summer months there us also plenty of birdlife from snow bunting and tundra swans to the elusive Ross's Gull. In fact, there are some 250 species that pass through Churchill during the summer.
Other activities include dog-sledding (well away from the bears!) and a chance to learn about the local cultures and customs of those who live year-round at the edge of the world.
It is also possible to take a helicopter flight over Wapusk National Park, which is otherwise completely off-limits as a favoured denning area for females and cubs in winter.
How much does it cost?
The season for visiting Churchill is fairly limited and for much of the year the town sees next to no visitors. Accommodation is limited and in high demand while getting there involves a charter flight (or the newly reopened train from Winnipeg) and it is the same for supplies. These factors all contribute to the cost of a trip to Churchill meaning that travelling in small groups a 6-day trip will cost around $6,395 per person plus charter flights from Winnipeg of around $800.
Getting to Churchill
There are two options for getting to Churchill now that the train from Winnipeg has come back into service, but it is by charter flight that the vast majority of people travel.
Flights from Winnipeg take around 2¼ hours on board small but comfortable planes. Most packages will include these flights as an add on to the base price of the trip and you land at an airport about ten minutes drive from Churchill itself.
Alex says
What is Churchill town like?
With less than 1,000 permanent inhabitants Churchill is a tiny and truly remote frontier town which sits on the confluence of three habitats: Boreal forest, tundra and the Churchill River.
Hunters and trappers still swap skins for hard cash and you really do need to look for bears before you leave a building. For any problem bears - there is a solution, they are tranquillized, put in bear jail and safely relocated 40 miles north, or released when the bay freezes over.
Facilities are limited, there's one grocery store, one liquor store and just a handful of accommodation options. The accommodation that is there is perfectly comfortable and you'll get a warm welcome but luxury is not to be expected. Getting supplies to this part of the world where temperatures reach -20C (-4F) in winter is something of a challenge.
What our customers think of Churchill

Swoop's part in providing me with a 10 out of 10 trip was, as usual, efficient and trouble-free, and made life very easy in preparing for it. Read the full review

Travelled: November 2018
Val Chiswell - United Kingdom
Arctic Guide
The Arctic is so vast and diverse that one of the biggest challenges is knowing where to begin. Our exclusive guide will help you get started with your travel plans.
Download Guide
Ready to Book Your Arctic Adventure?
1
Listen
We'll spend some time listening to your aspirations, then discuss the kind of experience that might suit you.
2
Match
Next we'll discuss the options, shortlist the best trips for you and present you our impartial recommendations.
3
Reserve
We'll place a 24 hour hold on your preferred option - without obligation - whilst we talk through the details.
Our team of experts are ready to help you with any questions about a trip to the Arctic.