Trip Summary and Itinerary Map
9 full days exploring - West Greenland (4) & Canadian Arctic (5)
This trip is operated in support of WWF-Canada
Flights Toronto/ Kangerlussuaq & Resolute/ Ottawa
Travelling aboard a comfortable 199 passenger expedition ship
Mountain Biking (additional cost)
Complimentary expedition jacket to keep and Rubber boot loan
Landmarks potentially visited on Arctic Wildlife Safari: Northwest Passage
Operator's Itinerary
Day 1 - Kangerlussuaq:
Kangerlussuaq is a former US Air Force base and Greenland's primary flight hub. Here we will be transferred by Zodiac to our vessel. With 168 kilometres of superb scenery, Sondre Stromfjord is one of the longest fjords in the world. We begin our adventure by sailing down this dramatic fjord, crossing the Arctic Circle, southbound as we go.
---
Day 2 - Sisimiut Coast:

West Greenland's complex coastal waterways include glaciers, islands and fjords against a towering mountain backdrop. The waters are relatively warm here, due to the West Greenland current and the sub-Arctic location. People have lived in the Sisimiut area for 4500 years. For the first 2000 years, the people of the Saqqaq culture occupied the area. 2500 years ago, new people brought the Dorset culture to the Sisimiut area. They lived here for 1500 years and were followed by the people of the Thule culture, the ancestors of the current population. All these cultures came from Canada. The people primarily lived on fish, birds and mammals such as whales and seals.
---
Day 3 - Ilulissat:

Ilulissat translates literally into "iceberg", an apt name for this site at the mouth of the Ilulissat Icefjord, a UNESCO World Heritage Site. The icefjord is the outlet of the Sermeq Kujalleq Glacier, source of many of the icebergs in the North Atlantic. Here, we will cruise in our fleet of Zodiacs to appreciate the icebergs. We will also visit the town of Ilulissat, with its museums, cafes, craft shops, and busy fishing harbour.
---
Day 4 - Western Greenland:

Greenland's west coast is simply stunning. From mighty mountains to the tiniest tundra flowers, our stop in this area will offer many outstanding features of interest. Hikers, walkers, photographers, and contemplators will all be equally delighted.
---
Day 5 - At Sea, Davis Strait:

Our onboard presentation series will continue as we steam across Davis Strait towards Canada. This is an excellent time to enjoy workshops, watch a documentary, and get out on deck looking for whales, seabirds and marine wildlife.
---
Day 6 - Mittimatalik (Pond Inlet):

Mittimatalik is a busy Arctic community in a beautiful setting. The views of nearby Bylot Island are stunning. We will have a chance to explore the town. The cultural presentation at the Community Hall is not to be missed; arts and crafts may be available here, too.
---
Days 7 to 10 - Tallurutiup Imanga (Lancaster Sound) & Devon Island:

We will spend four days exploring Tallurutiup Imanga (Lancaster Sound), one of Canada's newest National Marine Conservation Areas. Narwhal, beluga, and bowhead whales transit and feed in this area. We'll cruise by ship and Zodiac in search of wildlife. On the northern border of Tallurutiup Imanga lies Devon Island, the largest uninhabited island on Earth at over fifty thousand square kilometres. The island's geology is stunning. Flat topped mountains, glacial valleys, and a substantial ice cap give Devon Island its unique character. We'll visit a number of the bays – hiking the tundra, discovering the botany, cruising a glacier face, and wildlife spotting from ship and from shore. Once home to Inuit and their ancestors, we will visit archaeological sites with expert interpretation to learn about the human history of this now abandoned island. We'll also catch a glimpse of recent human history as we visit the remains of a Royal Canadian Mounted Police and Hudson's Bay Company site at Dundas Harbour.
---
Day 11 - Beechey Island:

In 1845, Sir John Franklin set out from England with HMS Erebus and HMS Terror, attempting to sail through the Northwest Passage. Franklin's crew overwintered at Beechey Island where three of his men died. Numerous search parties later used Beechey as a depot and rendezvous. Amundsen, Bernier, and Larsen all visited Beechey. Thomas Morgan of HMS Investigator was buried there in 1854 alongside Franklin's men. The graves, and the ruins of nearby Northumberland House, are a haunting memorial.
---
Day 12 - Qausuittuq (Resolute):

Qausuittuq, or "place with no dawn," is named for its dark winters. During our time in the summer months we will experience the midnight sun, a time of no darkness. The end of our journey is characterized by shoreline gravel flats, rocky coastal bluffs and deposits of glacial moraine. More significant is the origin of the hamlet. In 1953, Inuit from from Inukjuak, Québec, and Mittimatalik were relocated, under false pretenses, by the Canadian government with the aim of asserting Canadian sovereignty. Today the community is home to just under 250 people and is an important staging point for High Arctic research, tourism and military activities.
---
Please Note: The 11-Aug-2020 departure runs the itinerary in reverse.
About The Ship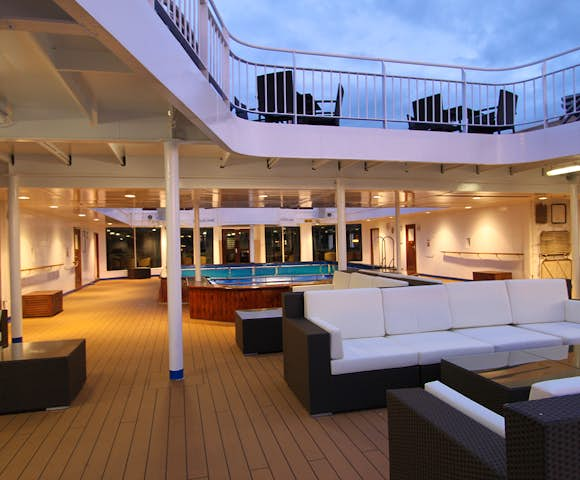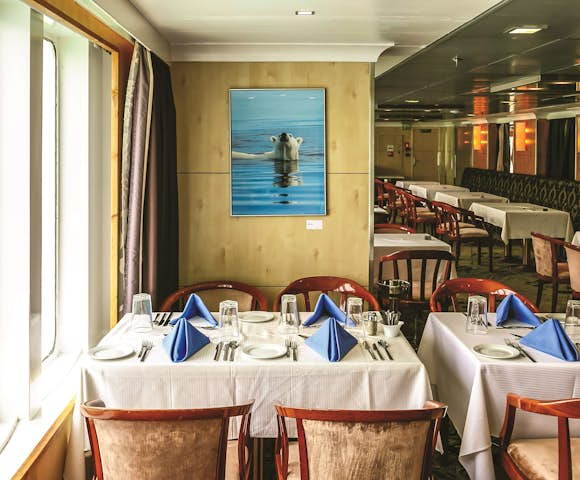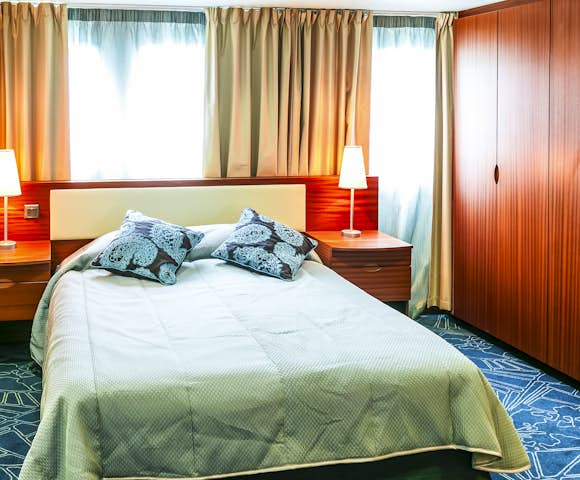 A middle-sized 4* ship suitable for up to 199 guests
Well-appointed, offering comfort & stability
Recently refurbished in 2015
1B ice class rating
Loan of rubber boots
Prices, Departures and Inclusions
Prices quoted below are per person based on 2 people sharing. Cabin availability changes all the time so please contact us for up-to-date details and information on specific cabin availability.
This trip can run as a group trip, with prices starting from $7,595 per person for a complete group. If you are looking to join a group or you are a solo traveller we will help to form likeminded groups of travellers. Please let us know your travel plans.
The trip can also run on a private basis to fit around your plans. Departures may be tailored and can be set up on a date of your choice. Please note that there is a higher price for smaller groups. Please enquire for further details.
Additional Notes
Charter flights: USD $2,495 per person
---
Discovery Fund Fee

The Discovery Fee of $250 per person is included in the cost of your trip. This is used to support local projects in the areas you will be travelling through, helping to ensure the longevity and success of educational, environmental and cultural initiatives in the regions we visit.
---
Optional Adventure Activities

A full kayaking programme is available to give you a different view of the Arctic, the cost is US$695 per person.
Mountain Biking is available typically only during community visits and not on expedition stops, due to polar bears. $40 CDN per rental paid onboard.
Single Supplement And Child Policy
For those travelling solo there are dedicated single cabins available. The single supplement for your own twin cabin is 1.7 times the cost of a single berth.
Child Policy: Young travellers are very much welcome with no minimum age requirement. Children under 2 years old travel for free, ages 3 & 4 only cover the charter flight cost and ages 5 - 30 receive a 30% discount off the cost of the berth.
Includes
Voyage aboard the vessel as indicated in the itinerary
Accommodation during the voyage on full board basis
All shore excursions and zodiac activities
Educational lectures by expert onboard polar guides
Access to an onboard doctor and basic medical services
Loan of rubber boots for the voyage's duration
Comprehensive pre-departure information
Port taxes and any entry fees to historic landing sites
Applicable taxes and credit card fees
Complimentary Expedition jacket
Contribution to Adventure Canada's Discovery Fund
Pre-departure materials
Nikon Camera Trial Program
Excludes
Charter Flights pre & post voyage
Flights to & from points of Ottawa/ Toronto
Any additional services before & after your voyage
Transfers not specific to the itinerary
Optional adventure activities (mountain biking)
Discovery Fund Fee
Any visa, passport and vaccination expenses
Airport arrival and departure taxes
Travel insurance
Items of a personal nature (laundry, beverages, etc.)
Customary staff gratuity at the end of the voyage
Additional onboard purchases (i.e. gift shop)
Additional expenses in the event of delays or itinerary changes
Possible fuel surcharges
Questions about this Voyage?