Trip Summary and Itinerary Map
9 full days exploring Svalbard
We love the extra days & the symmetry of a circumnavigation
Kayaking, snorkelling & scuba diving (additional cost for each)
Complimentary parka jacket + post trip voyage journal
Start and end locations for this trip can vary, more information is given at the point of enquiry

Landmarks potentially visited on Spitsbergen Circumnavigation
Operator's Itinerary
Day 1: Oslo
Check-in to your airport hotel, and attend our voyage briefing to enjoy a welcome drink and meet fellow expeditioners, before spending the night in preparation for your flight to Longyearbyen.

Note: Flights between Oslo and Longyearbyen are not included.
---
Days 2 to 3: Longyearbyen and Magdalenefjorden
Fly to Longyearbyen and upon arrival, there may be time for a short sightseeing excursion of Longyearbyen prior to embarkation, depending on the flight arrival time.
Board your vessel and settle in to your cabin as we set sail for Svalbard.
In Magdalenefjorden, you will Zodiac cruise a safe distance from the aqua-blue ice cliffs of 14th July Glacier or Waggonway Glacier, and take long walks among summer flowers, alert for reindeer and Arctic fox. Thanks to the nutrient-rich Gulf Stream and relatively mild temperatures, Atlantic puffins and guillemots fill the cliffs. Look for bearded seals, with their precious curling whiskers. You may visit the remains of a 350-year old Dutch whaling settlement on Amsterdam Island and learn of an ill-fated ballooning attempt over the North Pole.
---
Days 4-6: Moffen Island

Rounding Spitsbergen's northwest coast, enter the Arctic Ocean and the world of pack ice. Ghostly beluga whales rise up in open leads and polar bears stalk ringed, bearded and harp seals. Offshore, walruses feed on clams or haul out on beaches, especially on Moffen Island, a walrus sanctuary. Visit trapper huts and stay alert for reindeer and Arctic fox. Delightful walks reveal delicious berries and some of the tundra's 164 exquisite flowering plants including purple saxifrage, yellow spider plants and Svalbard poppies. If ice conditions allow, attempt to cross latitude 80 degrees north before turning south to Woodfjorden.

---
Days 7-8: Hinlopen Strait
Attempt to pass through narrow Hinlopen Strait, a channel flanked by austere, cream-coloured slopes rich in fossils between Spitsbergen and ice-capped Nordaustlandet. This polar desert is a landscape eroded by severe frost. Even in summer, pack ice could bar our way, but there is much to strive for. Zodiac cruise beneath Alkefjellet, sheer basalt cliffs rising at more than 250 metres - literally buzzing with some 200,000 nests of Brunnich's guillemots. During shore excursions, you seek eider ducks, Arctic foxes and the elusive Svalbard ptarmigan. As you pass Barentsoya and Edgeoya islands, you cross polar bear migration routes.

---
Days 9-10: Hornsund and Bellsund Fjords
This is true expedition cruising. If ice conditions allow, round South Cape and sail north toward Hornsund and Bellsund, deep fjords home to stunning glaciers and wildlife. If ice bars the way, the itinerary will be adjusted, backtrack and delve deeper into the wonders of Spitsbergen's north and west coasts.
---
Day 11: Longyearbyen
A midnight cruise of glorious Isfjorden returns you to Longyearbyen and the end of the voyage.
---
NOTE: This itinerary is for guidance only as each voyage will vary depending on ice and weather conditions, and opportunities to see wildlife. Flexibility is key and all part of the adventure of an expeditionary cruise.

What our customers think of Spitsbergen Circumnavigation
The trip exceeded our expectations since the first day, and it got better and better at every zodiac cruise or landing we made. The organization by the Aurora staff and the Polar Pioneer crew was excellent. We didn't expect to have such experienced and professional guides. Their knowledge of the fauna, flora and environment was outstanding, as well as their communication skills. Being onboard such a small ship means that you are really able to know the rest of the passangers and the staff, who all share the same interest and love for nature as we do. Among the highlights: watching polar bears and their cubs in the ice; the cliffs of guillemots and puffins; the sound of the icebergs popping and cracking; the massive glacier calvings and the waves they produce.

Travelled: March 2021
Aurelio & Maria Jose Hernandez -
Seeing so many polar bears in their natural habitat and extremely close is unforgettable.

Travelled: August 2023
Seeing polar bears with cubs and with kills was great, but the moment that got me was the bird cliffs (Alkegjellet in particular). Just to see such a huge concentration of wildlife in one place was stunning.

Travelled: July 2023
The polar bears we encountered close to the ship. Especially the ones we met on the sea-ice. To get an insight to their natural life such as hunting, eating, being curious, falling asleep - that is something I will never forget.

Travelled: August 2023
Seeing a curious young male polar bear come across the sea ice to check out our small ship… Spotting us, he came across the ice, sliding down ridges, rolling over, sniffing the air at our scent, until he checked us out. Amazing! He them a baked off to hunt, having dufficuktung climbing out of the water into the ice, at some points.

Travelled: June 2023
Impossible to choose. Obviously all polar bear sightings but arctic fox carrying off eggs from bird cliffs in last moment of last zodiac trip was fabulous

Travelled: July 2022
There were so many memorable moments that it is hard to choose one. The wildlife was amazing - 9 polar bears, walrus, bearded seals, whales, foxes and so many birds. The zodiac cruises near the glaciers were also incredible.

Travelled: July 2023
All wildlife

Travelled: June 2023
The ice

Travelled: June 2023
About The Ship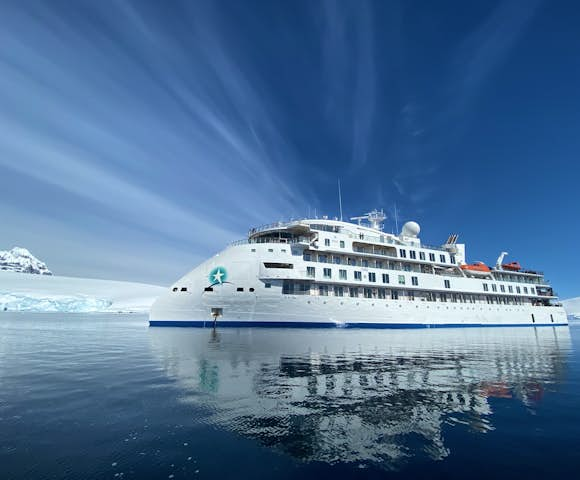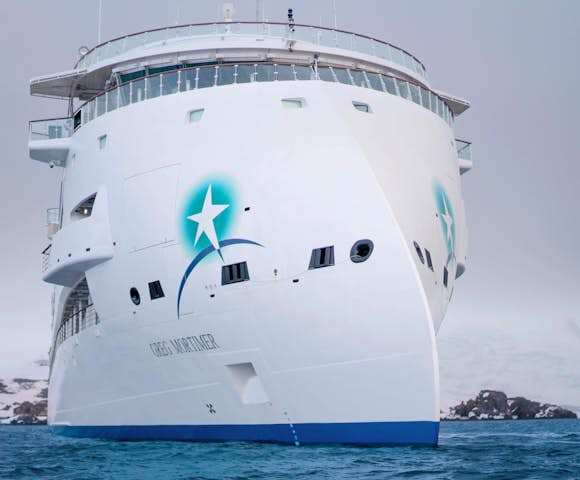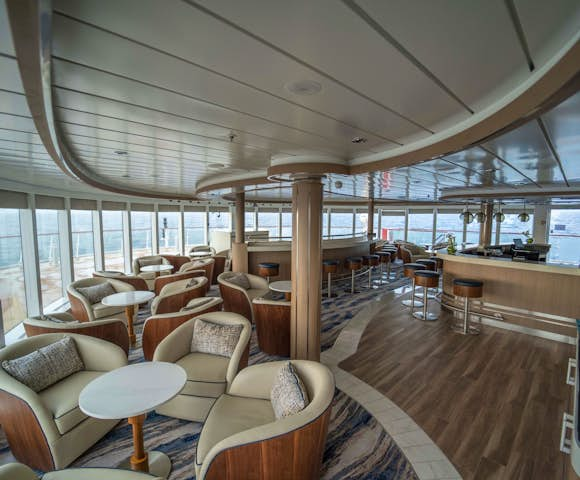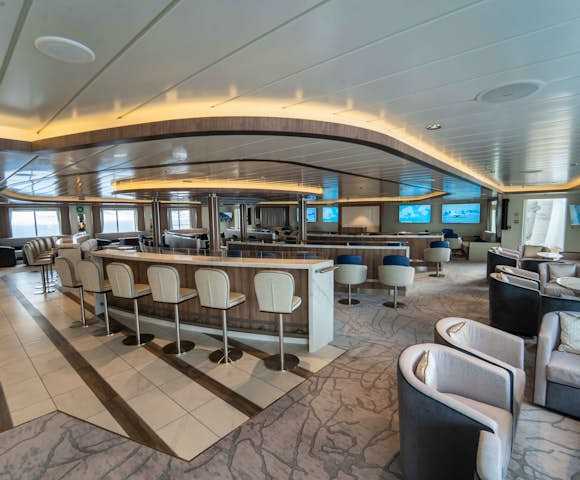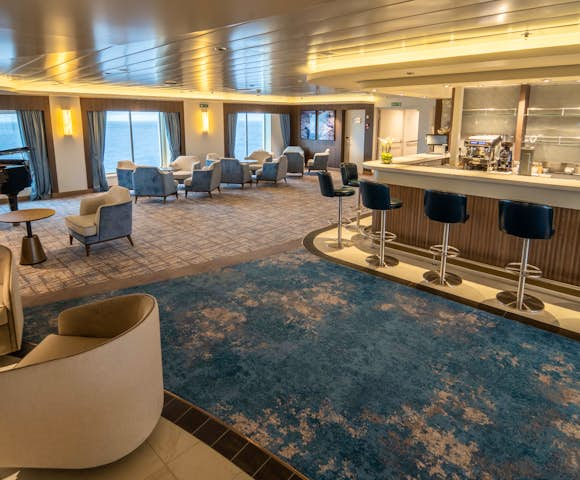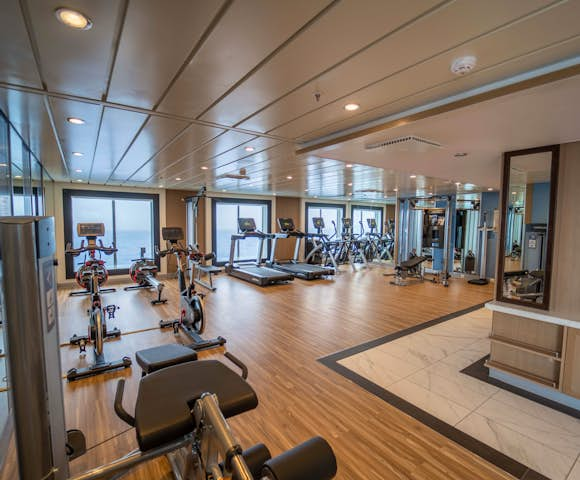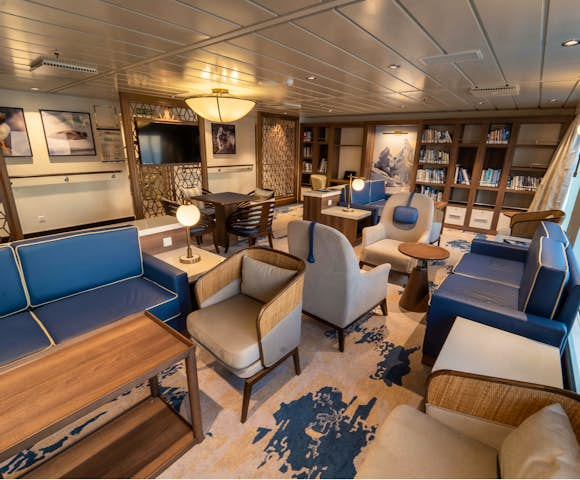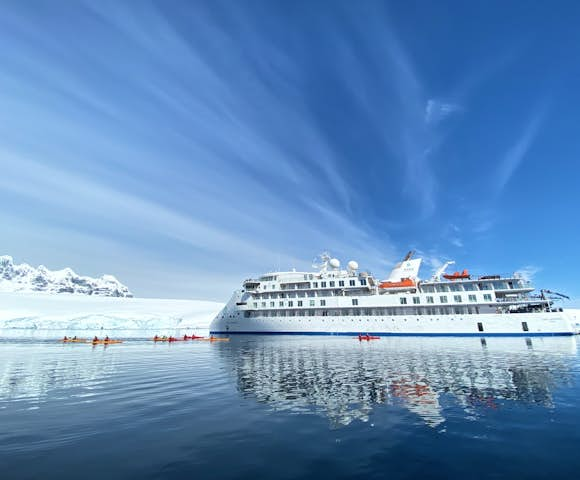 The X-BOW design isn't only eye-catching, it also means a smoother ride and a lower carbon footprint
Average capacity of 132 passengers is small for a brand new ship and a highly experienced expedition team of 15 - 18 people will deliver a very personalised experience for all on board
A great range of cabin categories, 80% of which have balconies
Small number of passengers and multiple zodiac loading bays means great chance of spontaneity and faster zodiac logistics
Optional kayaking is always popular, while this is one of only a few ships to also offer scuba diving, polar snorkelling, SUP and rock climbing on selected voyages
Prices, Departures and Inclusions
Prices quoted below are per person based on 2 people sharing. Cabin availability changes all the time so please contact us for up-to-date details and information on specific cabin availability.

This trip can run as a group trip, with prices starting from $10,001 per person for a complete group. If you are looking to join a group or you are a solo traveller we will help to form likeminded groups of travellers. Please let us know your travel plans.
The trip can also run on a private basis to fit around your plans. Departures may be tailored and can be set up on a date of your choice. Please note that there is a higher price for smaller groups. Please enquire for further details.
Additional Notes
Optional Adventure Activities:
Sea Kayaking (AUD $1,300 per person) - basic abilities required.
---
Please note:
The 29-May-2023 and 08-Jun-2023 departures begin and end in Longyearbyen.
Single Supplement And Child Policy
There is no single supplement for passengers willing to share a cabin. For those who want their own cabin, the single supplement in a twin cabin is 1.5 times the cost of sharing with another passenger.
Children must be over 8 years old to take this voyage.
Includes
Voyage aboard the vessel as indicated in the itinerary
Accommodation during the voyage on full board basis
All shore excursions and zodiac activities
Educational lectures by expert onboard polar guides
Access to an onboard doctor and basic medical services
3-in-1 waterproof polar expedition jacket
Loan of rubber boots for the voyage's duration
Comprehensive pre-departure information
Port taxes and any entry fees to historic landing sites
A digital photo book produced with photos and ship logs from your voyage
Excludes
Flights to and from points of embarkation/disembarkation
Any additional services before and after your voyage
Transfers not specific to the itinerary
Travel insurance
Optional adventure activities
Any visa, passport and vaccination expenses
Airport arrival or departure taxes
Items of a personal nature: laundry, beverages, etc
Additional onboard purchases (i.e. gift shop)
Gratuities for ship crew
Questions about this Voyage?