Trip Summary and Itinerary Map
Reach the North Pole in serious comfort
Sail north via Svalbard's dramatic coastline adding spectacular scenery and wildlife opportunities
Avoid the need for a Russian visa with charter flights from Paris to Svalbard
Sail on board the world's first luxury hybrid-powered icebreaker, purpose-built for polar expeditions
Operator's Itinerary
Day 1: Paris to Longyearbyen, Spitsbergen
Meet your fellow travellers at the airport and take your included charter flight from Paris to Longyearbyen, Spitsbergen, a journey of approximately 4.5 hours. Upon arrival at the airport, you will be met and transferred to the ship.
We recommend that you arrive in Paris the day before your charter flight to avoid any possible delays. The exact flight timings will be confirmed closer to departure but could be in the morning.
Day 2: At sea along Spitsbergen's coastline
The largest island in the Svalbard archipelago, Spitsbergen is the last piece of land before you strike out into the unknown towards the North Pole. Aboard your ship, you will sail along the spectacular coastline of an aptly named landscape; the word Spitsbergen means "pointed mountains" in German. Between age-old glaciers and rugged mountains, you will discover a jagged coastline, hollowed out by fjords. In a unique setting, we recommend spending as much time out on deck as possible to enjoy the glorious views as you head north.
Days 3- 7: At sea, sailing through ice floes
Enjoy the absolutely unique experience of sailing to the heart of the ice floe, a vast expanse of immaculate ice. The landscapes are constantly changing, shifting from a smooth, flat wilderness to chaos of ice, then to channels of open water. The ship will sail along these naturally open channels and power through the areas where the frozen layer is thinnest. There may be opportunities for wildlife encounters as you head north, so keep your eyes peeled for seals, birds, and perhaps even a polar bear if you are lucky. Take advantage of the midnight sun to soak up the otherworldly atmosphere.
Day 8: Geographic North Pole
Defined by a 90° North latitude, the Geographic North Pole lies on the Earth's rotational axis, at the intersection of all meridians. Plunged into darkness for six months of the year, then lit by the sun for the following six months, this mythical site, permanently covered in ice and far from any land, has fascinated generations of explorers. Only a select group of intrepid explorers have ever reached this far north, so you are part of a very exclusive group!
Days 9-13: Sailing south through the ice
Begin your journey back south towards the archipelago of Svalbard. During your time at sea, make the most of the many services and activities on board this fantastically well-equipped ship. Treat yourself to a moment of relaxation in the beautiful spa or stay in shape in the fitness centre. The ship has been designed with huge windows throughout to ensure that you always make the most of the view, wherever you are.
The expedition team on board will be offering educational presentations regarding the wildlife and landscapes of the Arctic. These are highly recommended and really enhance your experience and understanding of this glorious location. The ship also hosts a team of scientists who use it as a platform to conduct polar research and they may give a talk regarding the work they are doing during your expedition.
Wrap up warm and head out on the deck with your binoculars and camera to look for wildlife and enjoy the glorious crunching noise as the ship moves through the ice. The ship even has some unique heated seats on deck, allowing you to warm up without needing to head indoors.
Days 14-15: Returning to Svalbard
As you move clear of the ice you may spot mountains ahead - your first glimpse of land for days! You are returning back to Svalbard and will continue to sail south towards Longyearbyen. The best spot to be is out on deck as this is a great time to look out for marine wildlife. Possibilities include whales, seals, and maybe even a walrus taking a nap on a comfortable piece of ice.
Day 16: Arrive in Longyearbyen for disembarkation
You will disembark this morning and be transferred to the small airport in Longyearbyen for your charter flight back to Paris.
We recommend that you make arrangements to stay close to the airport as the charter flight timings are unpredictable and it could be a late arrival back into civilisation.
---
NOTE: This itinerary is for guidance only as each voyage will vary depending on ice and weather conditions, and opportunities to see wildlife. Flexibility is key and all part of the adventure of an expeditionary cruise.

About The Ship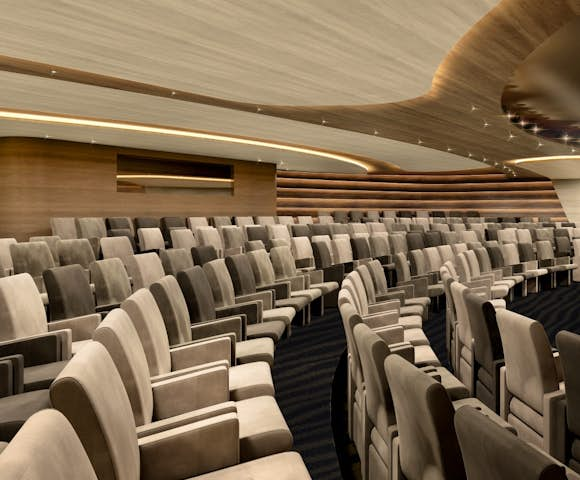 Just 135 staterooms
Hybrid engines using liquefied natural gas,

minimises the carbon footprint

of your trip
True expeditions with a

full programme of landings

on each trip
A voyage to the Geographical North Pole proves this ship is a serious

ice breaker

Offers

adventure

and

relaxation

in equal measure
Prices, Departures and Inclusions
Prices quoted below are per person based on 2 people sharing. Cabin availability changes all the time so please contact us for up-to-date details and information on specific cabin availability.

This trip can run as a group trip, with prices starting from $37,160 per person for a complete group. If you are looking to join a group or you are a solo traveller we will help to form likeminded groups of travellers. Please let us know your travel plans.
The trip can also run on a private basis to fit around your plans. Departures may be tailored and can be set up on a date of your choice. Please note that there is a higher price for smaller groups. Please enquire for further details.
Additional Notes
The departure from 10th - 27th July 2023 is an extended voyage of 17 nights rather than 15. The additional time may be spent exploring Nordvest-Spitsbergen National Park.
There are more cabin types and prices than can be displayed in the above matrix, please contact us for more details.
Single Supplement And Child Policy
Supplements for single cabins are available - please contact us for details.
Includes
Includes roundtrip flight Paris/ Svalbard return
Voyage aboard the vessel as indicated in the itinerary

Meals during the voyage on a full board basis
Pre and post voyage transfers
All shore excursions and zodiac activities
Educational lectures by expert onboard polar guides
Access to an onboard doctor and basic medical services
Loan of foul weather gear and waterproof backpack
Comprehensive pre-departure information
Port taxes and any entry fees to landing sites
Excludes
International flights to and from Paris

Any additional pre/post land services, including meals
Transfers not specified in the itinerary
Optional non-complimentary adventure activities
Visa, passport and any vaccination expenses
Airport arrival or departure taxes
Personal travel insurance
Items of a personal nature; laundry, premium beverages, etc
Customary staff gratuity at the end of the voyage
Additional onboard purchases (i.e. gift shop)
Questions about this Voyage?