Trip Summary and Itinerary Map
6 full days exploring the Svalbard archipelago
Travel in unparalleled comfort aboard this 264 guest state-of-the-art superyacht
95% of the suites have their own private balcony
Includes roundtrip flight Paris/ Longyearbyen return
Complimentary parka jacket & rubber boot loan
Landmarks potentially visited on Luxury Spitsbergen
Operator's Itinerary
Day 1: Longyearbyen
Longyearbyen, capital of the Norwegian Svalbard archipelago is located on Svalbard's main island; it is the northernmost territorial capital on the planet. The landscapes of this mining town are simply breathtaking and winter temperatures often drop below 40 degrees Celsius. With glaciers and mountains stretching as far as the eye can see and untouched nature all around, you truly feel like you're in completely unexplored territory.
---
Day 2: Hornsund
Considered to be the crown of Arctic Norway, Spitsbergen is a place that never sees the night; you will find it nestling between millennial glaciers and carved mountains. The vessel will take you closer to this fascinating archipelago and the Hornsund fjord. It is Svalbard's southernmost fjord and believed by some to be its most stunning. At the end of its vast bay, eight enormous glaciers slowly make their way down to the sea, giving way to many icebergs elegantly drifting along in its cold and mysterious waters.
---
Day 3: Bellsund
Our vessel heads to the Bellsund fjord, following in the footsteps of the first explorers who came from the Norwegian coast along with many fur traders seeking game and trophies. This is an area rich in wildlife, where the arms of the fjord separate to form two lush valleys.
---
Day 4: Sailing towards ice floes
The captain of our vessel will sail right up to the edge of the ice floe. If weather conditions and the state of the ice allows, you will be able to go out in a Zodiac dinghy for a unique cruise amongst these floating slabs (up to 2m thick) of ice with their cut and blue-tinged edges. There are also opportunities to see wildlife that is totally dependent on the ice floe: Arctic birds, seals and polar bears.
---
Day 5: Makeoyane & Monaco Glacier
Makeoyane is a small archipelago in the heart of the Woodfjorden; its name a reference to the large quantities of driftwood that washes up on the beaches here. Located at the intersection between two fjords, the Bockfjorden and the Liefdefjorden, we are led on to the Monaco Glacier, one of the most beautiful and majestic glaciers in Spitsbergen. As you sail around these little islands, there is a chance to observe Arctic terns whose nests sometimes attract polar bears who come to steal their eggs.
The Monaco Glacier was named in honour of Prince Albert I of Monaco, who was a sailor and it stands as an impenetrable, blue-tinged jagged wall; the last glacier you will see before reaching a latitude of 80 degrees North. Making this magical landscape even more perfect, you might be lucky enough to spot bears and whales that are often seen in this area.
---
Day 6: Raudfjorden & Smeerenburg
Raudfjorden means 'red fjord', and the name is taken from the colour of the surrounding sandstone mountains. The 20km fjord is dissected by many shallow bays, and along its west coast you will be able to admire some of Spitsbergen's most spectacular ice formations. At the extremity of the fjord, two channels lead to the glaciers of Chauveaubreen and Raudfjordbreen. To the east, Alicehamna Beach in Bruceneset Bay has hosted trappers, fishermen and explorers for centuries; here you can see the cabin of a Swedish trapper built in 1927 known as Raudfjordhytta.

Located at the far north-west of the Svalbard archipelago, at the intersection of oceanic and Arctic influences, Smeerenburg is a former Dutch whaling colony on the southern part of Amsterdam Island. In a landscape of hills with steep slopes, plateaux, lakes and lagoons, you will anchor at a sandy beach. Dotted with driftwood and the remains of ovens that were used to melt the whale blubber, this is one of Spitsbergen's most important archaeological sites. At the height of the whaling activity, 200 men worked here and several are buried here.
---
Day 7: Ny-Alesund & Kongsfjorden (King Bay)
We travel to Ny-Alesund, a former mining town founded in 1916 that has been transformed into a scientific base. This small town was the departure point for many Arctic expeditions, including those of the famous explorer Roald Amundsen. Visit the museum and post office, considered to be the most northerly in the world.
We follow Ny-Alesund with a visit to Kings Bay. Our vessel will sail along one of the most beautiful fjords in Svalbard: Kongsfjorden (the fjord of the King) is a gateway to some grandiose landscapes. Snow-capped mountains are reflected in the water and superb icebergs try to outdo each other in their beauty, creating a delight for photographers. Seals, reindeer, barnacle geese and black guillemots can all be found here. Arriving at the end of the fjord, we can admire the Kongsbreen (glacier of the King) and its three characteristic rocky points taking their names from three Scandinavian countries: Svea (Sweden), Dana (Denmark) and Nora (Norway).
---
Day 8: Longyearbyen
We return to Longyearben where you say farewell to the crew and disembark the vessel for your onward journey.
About The Ship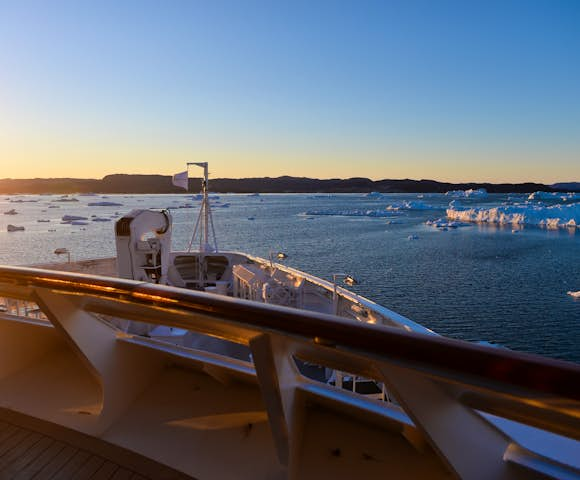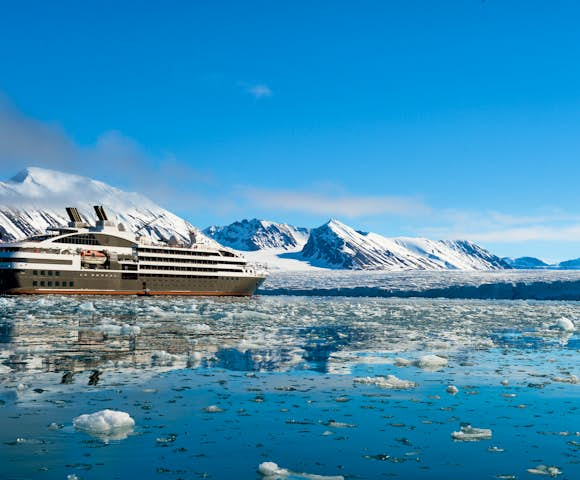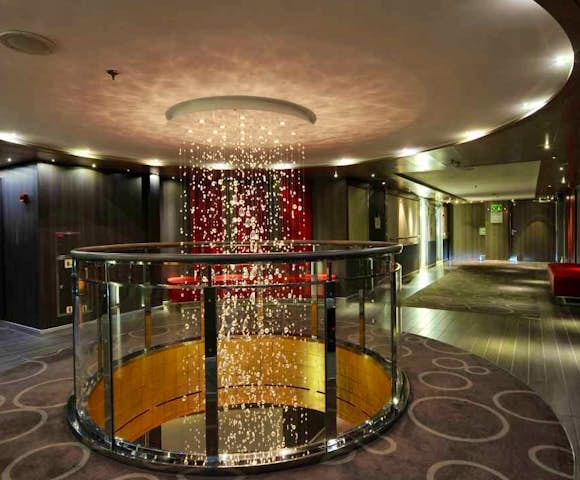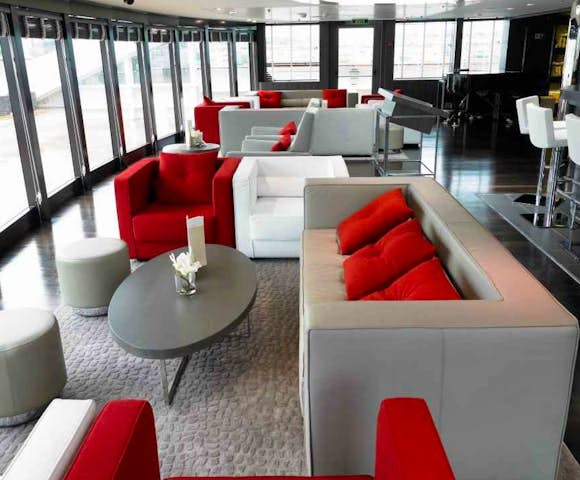 Modern luxury ships for 264 guests
5* experience without the high price tag
95% of the suites have a private balcony
1C ice class + advanced stabilizing system
Only zodiac landings & excursions
Rubber boots are provided on loan
Prices, Departures and Inclusions
Prices quoted below are per person based on 2 people sharing. Cabin availability changes all the time so please contact us for up-to-date details and information on specific cabin availability.

Includes
Includes roundtrip flight Paris/ Longyearbyen return

Open Bar for duration of voyage
24 hour room service
Pre and post voyage transfers
Voyage aboard the vessel as indicated in the itinerary
Accommodation & meals during the voyage on full board
All shore excursions and zodiac activities
Educational lectures by expert onboard polar guides
Access to an onboard doctor and basic medical services
Loan of rubber boots
Access to fitness room
Laundry, wake up & photography services
Unlimited Wi-Fi on board
Complimentary waterproof parka jacket
Comprehensive pre-departure information
Port taxes and any entry fees to landing sites
Excludes
Safety and port taxes (EUR 500 per person)

Airport taxes (EUR 40 per person)
Flights to and from points of embarkation/disembarkation

Any additional pre/post land services, including meals
Transfers not specified in the itinerary
Optional non-complimentary adventure activities
Visa, passport and any vaccination expenses
Airport arrival or departure taxes
Personal travel insurance
Items of a personal nature (laundry, beverages, etc)
Customary staff gratuity at the end of the voyage
Additional onboard purchases (i.e. gift shop)
Questions about this Voyage?