Operator's Itinerary
Day 1: Paris of the North
Your adventure begins in Tromsø, nicknamed the "Paris of the North," located in an area rich with Norse and Sámi history. Enjoy exploring this sub-Arctic Norwegian town, said to have been inhabited since the last ice age. Board the vessel by 1700, with the aim aim to depart from Tromsø in the evening, sailing through Grøtsundet and Ullsfjorden toward the northeast.
---
Day 2: Lighting out toward Lyngen
You arrive in the Nord-Lenangen fjord, just under Lyngsfjella (Lyngen Alps), and the ship may stay there for the night. If conditions permit, you may also take a walk along the coast of the fjord. Evening glimpses of the northern lights may appear, if the sky is clear enough.

---
Days 3-6: Into the Nordic Fjords
You then sail along the base of the Lyngen Alps, across the Lyngen fjord, and may stay for the night in Hamnnes, on the island of Uløya. Hamnnes is an ancient trade and fishing settlement originating in the 17th century, with typical wooden warehouses where residents store dried cod. (In fact, the town still exports this cod for the traditional Mediterranean dish, Bacalhau.) Uløya offers good hiking, often on snowshoes.
From Hamnnes, you sail farther northeast into the Kvaenangen Fjord. Part of the day you sail through the fjords, and in the afternoon you find a harbor to spend the night in one of the scenic fishing villages, such as Skjervøy, Seglvik, Reinfjord, or Burfjord. There are good hiking possibilities in the area, for example on the Island of Spildra, where we might climb the 240-meter-high (788 feet) Staurhammaren, with expansive views over the fjord. Great hikes can also be made in Burfjord, just 50 km (31 miles) from the northerly town of Alta.
During the evenings and nights, there are fine opportunities to see auroras if the sky is clear enough.
---
Days 7-8: Below the Northern Lights
Your next objective is to sail back toward the southwest, staying for the night in Finnkroken, a tiny hamlet that gives you a solid chance of seeing the northern lights. In the morning you embark on a final hike, hopefully with snowshoes, to the 315-meter-high (1,033 feet) Småvasshaugen.
On day seven, you sail back to Tromsø and arrive around midday. You will have enough time to shop for souvenirs in town, visit a museum, or simply take a walk in the fresh winter air.
After spending the last night on board, you disembark on day eight (Saturday) with memories that will accompany you wherever your next adventure lies.
---
Your Voyage
During the trip, hikes are offered with snowshoes if required. It is recommended the you bring ankle-high, sturdy boots with gaiters. For wet shore landings via the Zodiac boats, bring insulated rubber boots with anti-slip soles.
No prior experience or technical knowledge of snowshoeing is necessary, as long as you are in good health and physical condition.
Daily hikes of two to three hours are planned, in the morning and/or afternoon. You'll climb approximately 100 to 200 meters (330 to 660 feet) during each hike. At midday, you'll return for lunch aboard the vessel.
---
NOTE: This itinerary is for guidance only as each voyage may vary considerably from the route shown, depending on ice and weather conditions, availability of landing sites, and opportunities to see wildlife. The final decision as to where and in what way the hikes will take place is ultimately made by the expedition leader on board. Flexibility is key and all part of the adventure of an expeditionary cruise.
About The Ship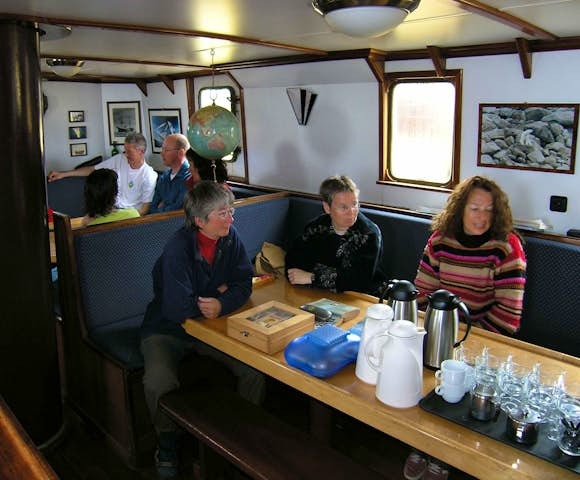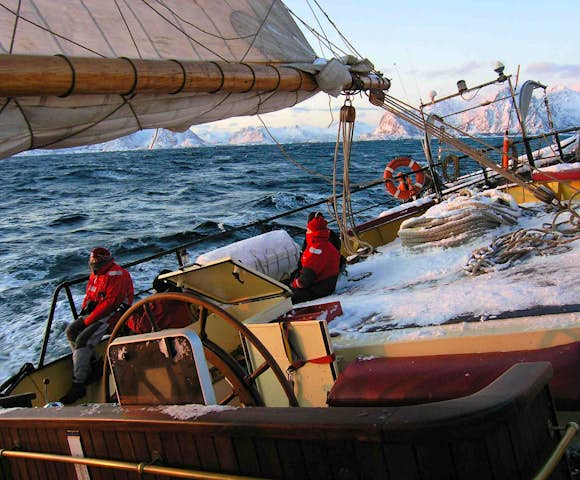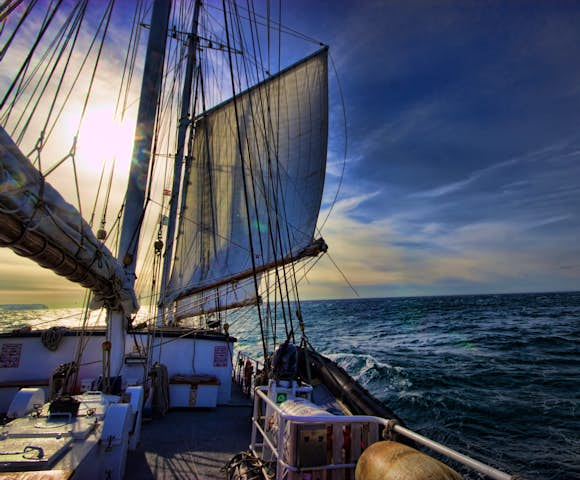 Sail in Arctic waters aboard a three-masted schooner built over 100 years ago
Massive appeal for active travellers and avid sailors alike
Sail with just 33 guests with a professional crew of 12
Arctic travel doesn't get much more exclusive than this
Enjoy land-based excursions accompanied by your expeditionary staff
Prices, Departures and Inclusions
Prices quoted below are per person based on 2 people sharing. Cabin availability changes all the time so please contact us for up-to-date details and information on specific cabin availability.

This trip can run as a group trip, with prices starting from $2,275 per person for a complete group. If you are looking to join a group or you are a solo traveller we will help to form likeminded groups of travellers. Please let us know your travel plans.
The trip can also run on a private basis to fit around your plans. Departures may be tailored and can be set up on a date of your choice. Please note that there is a higher price for smaller groups. Please enquire for further details.
Single Supplement And Child Policy
Single supplement: For those travelling solo who would like their own cabin, the single supplement is 1.7 times the cost of a single berth, please contact us for details. However, there is no single supplement for passengers willing to share a cabin.
Child Policy: At the date of embarkation, the minimum age restriction of 8 years and a minimum height and weight requirement of 64 lbs or 29kg and 48" or 1.2 meters must be met.
Includes
Voyage aboard the indicated vessel as indicated in the itinerary
Accommodation during the voyage on full board basis
All shore excursions and activities throughout the voyage by Zodiac
Educational lectures by expert onboard polar guides
Access to onboard doctor and basis medical services
All miscellaneous service taxes and port charges throughout the programme
AECO fees and governmental taxes
Entry feeds to historic landing sites
Comprehensive pre-departure material
Excludes
Flights to & from points of embarkation/disembarkation
Any additional services before & after your voyage
Transfers not specific to the itinerary
Travel insurance
Optional adventure activities
Any visa, passport and vaccination expenses
Airport arrival or departure taxes
Items of a personal nature: laundry, beverages, etc
Customary staff gratuity at the end of the voyage
Additional onboard purchases (i.e. gift shop, drinks)
Questions about this Voyage?