Trip Summary and Itinerary Map
8 full days exploring Svalbard
Just 12 passengers allows for huge flexibility
Late season light is perfect for photographers
Newly refurbished and strong ship
2 highly experienced guides onboard
Landmarks potentially visited on Svalbard - A Small Ship Expedition
Operator's Itinerary
Day 1 - Embarkation Day:
Board the vessel at 4pm from the dock in Longyearbyen and enjoy a welcome cocktail with the captain.
---
Days 2 to 10 – Expedition Days:

While there is a carefully planned daily schedule based on distances between points of interest and the location of the ice in any given season, our timetable in Svalbard by nature must be flexible.
We usually begin by heading north towards the ice edge which is a great place to scout for polar bears, but that's not the only goal. We'll use our planned itinerary as a rough guide so that every day the conditions are maximized for the best wildlife watching opportunities, be they land or sea-based.
Every morning your Expedition Leader will work with the bridge officers to make decisions about the day, taking into account ice situation and the weather, looking at whether Plan A makes the most sense or if Plan B, C, or D will be better for us. If we come across something amazing, we would never just pull the plug because we have something else "scheduled" for the afternoon. While the captain has final say on all decisions made, we will always check in with the group and take into account your wishes.
What to expect:
Svalbard has a little bit of everything, including massive scenic fjords from which artfully sculpted glaciers emerge to meet the sea, up to the high snowcapped peaks, and all the way down to Arctic tundra covered in colourful vegetation such as mosses and lichens that the Svalbard reindeer love to feed on. It's not uncommon to find seals or walruses resting on ice floes at the mouths of these fjords, and if we're lucky, we'll spot a whale or two as we sail up the west coast.
We'll plan to stop in at the world's northernmost civilian settlement, the research village of Ny Ålesund, which also boasts the world's northernmost post office. At the height of the summer season, there are about 120 inhabitants working amongst the 15 permanent research stations. It's from here that Amundsen and Nobile initiated their courageous attempts to reach the North Pole by airship, and there are a couple of monuments dedicated to their efforts that are worth visiting.
From there we'll continue heading north, poking into other landing sites and fjords of interest, getting out into the two zodiacs to make landings where we'll plan hikes to stretch our legs and optimize our chances for excellent wildlife opportunities.
During the entire expedition, we'll be on the lookout for polar bears, which can be spotted on land just as often as on the sea ice. There are an estimated 3000-4000 animals in the region and the population is considered to be stable. This powerful animal is amazing to behold in the wild, with males weighing up to 700kg when they are at their healthiest. If we find them, we will get as close as we can without disturbing them or putting passengers at any risk. Getting out into the inflatable zodiacs is an excellent way to safely observe the wildlife from proximity.
Weather and ice conditions permitting, we'll sail into Hinlopen Strait and plan to visit Alkefjellet ('Bird Mountain'), a series of otherworldly basalt cliffs stretching a number of kilometres in length and in some places, up to 100 meters high,on which we'll find thousands of nesting birds and the occasional Arctic fox hunting nearby.
Nordauslandet, Bråsvellbreen, Barentsøya, and Edgeøya are all locations that we may also explore, weather and ice permitting, and offer magnificent scenery with vast tundra which hold the prospect of continued incredible landscapes and wildlife sighting opportunities.
---
Day 11 – Disembarkation Day:

Disembark in Longyearbyen at around 0800.
About The Ship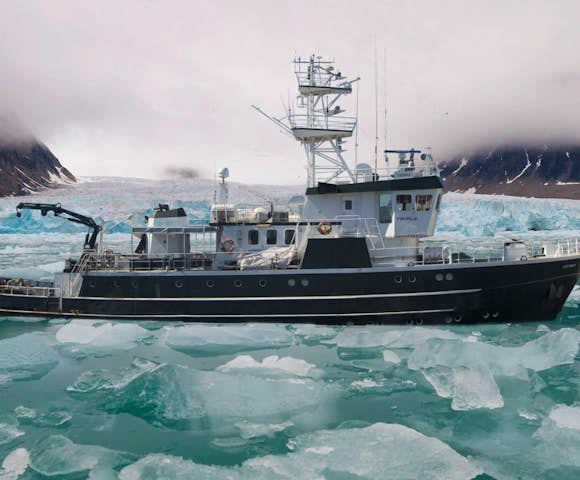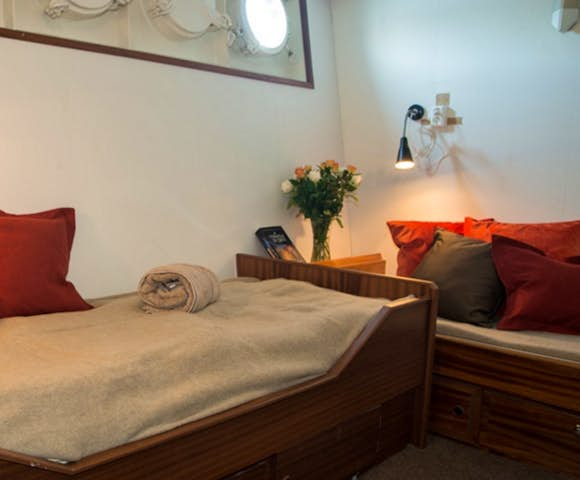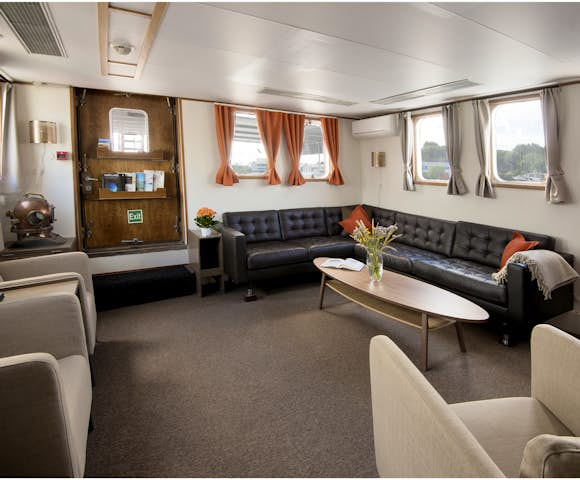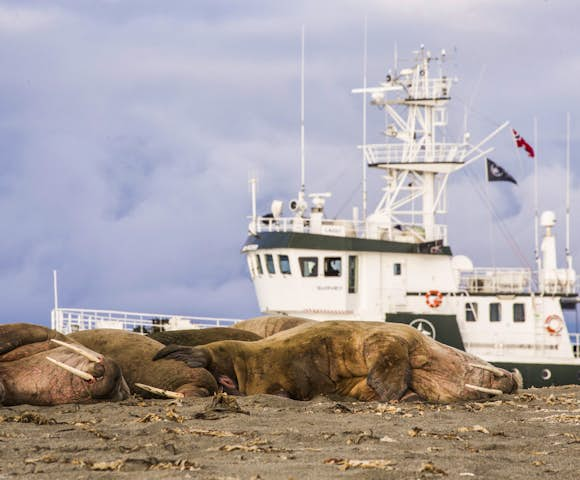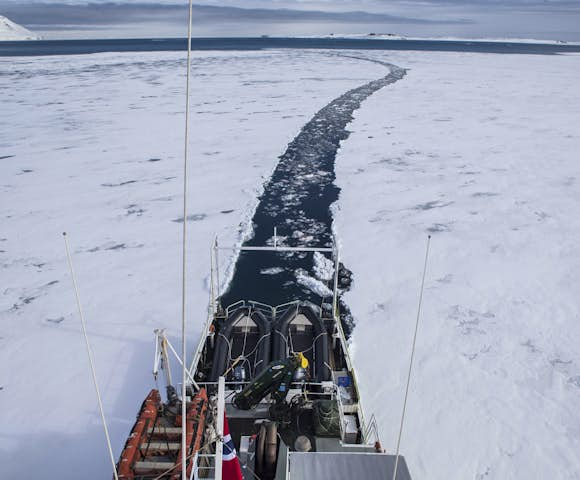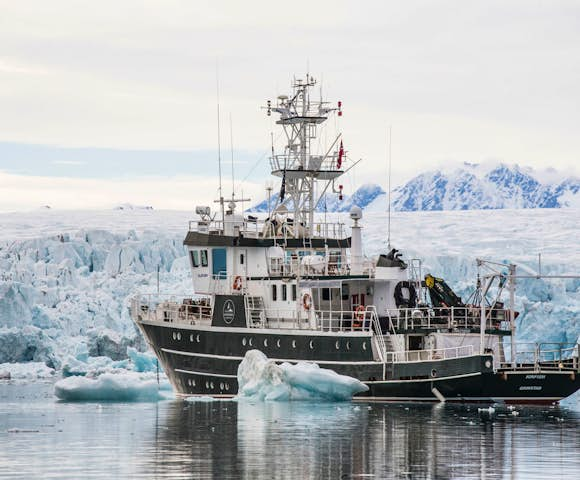 A great illustration of how perfect this little ship is for exploring the ice is that she was originally a research and rescue ship, saving 17 vessels from total loss during her service.
Ice Class 1A
She has just 12 passenger capacity and can reach places that larger ships cannot go.
Facilities include two lounges and an open bridge and there are two zodiacs available for landings.
Prices, Departures and Inclusions
This trip can run as a group trip, with prices starting from $8,882 per person for a complete group. If you are looking to join a group or you are a solo traveller we will help to form likeminded groups of travellers. Please let us know your travel plans.
The trip can also run on a private basis to fit around your plans. Departures may be tailored and can be set up on a date of your choice. Please note that there is a higher price for smaller groups. Please enquire for further details.
Additional Notes
Join cameraman Ben Osborne on the 7th September 2020 departure
Travel with Tommy Simonsen & Rod Thomas on the 17th September 2020 departure
Includes
Voyage aboard the vessel as indicated in the itinerary
Accommodation during the voyage on full board basis
All shore excursions and zodiac activities
Access to an onboard doctor and basic medical services
Comprehensive pre-departure information
Port taxes and any entry fees to historic landing sites
Excludes
Flights to and from points of embarkation/disembarkation
Any additional services before and after your voyage
Additional onboard purchases (i.e. gifts, drinks)
Customary staff gratuity at the end of the voyage
Travel Insurance
Transfers not specific to the itinerary
Optional adventure activities
Any visa, passport and vaccination expenses
Airport arrival or departure taxes
Items of a personal nature: laundry, beverages, etc
Questions about this Voyage?