Why we like Silver Cloud
Fully refurbished in 2016 the Silver Cloud has been redesigned for polar exploration in serious comfort
Some of the largest suites on any ship, most of which with private balconies
A staff to passenger ratio of very nearly 1:1
Despite her size she's fast, capable of cruising at 17 knots
Four restaurants on board including a Relais & Chateaux option
An incredible attention to detail
A fully dedicated expedition crew of 20+ experienced polar specialists
Alex says
Cabin Categories
Owner's Suite
Option of 1 or 2 bedroom configuration
Large glass door connecting to 8m2 (89sq ft) veranda with patio furniture
Twin or queen-sized beds
Living room with sitting area
Separate dining area
Private ensuite facilities with hair dryer
Writing desk, flat screen TV, Bang & Olufsen audio system, complimentary WiFi access, coffee machine, personal safe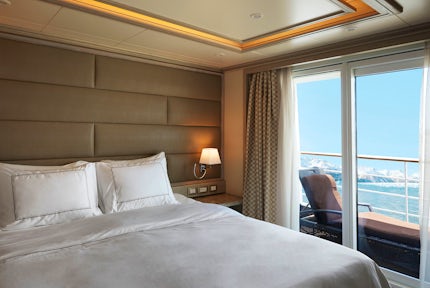 Grand Suite
Option of 1 or 2 bedroom configuration
Large glass door connecting to two verandas with patio furniture
Twin or queen-sized beds
Living room with sitting area
Separate dining area
Private ensuite facilities with hair dryer
Writing desk, flat screen TV, Bang & Olufsen audio system, complimentary WiFi access, coffee machine, personal safe
Veranda 1 is 14m2 (145sq ft) and veranda 2 is 18.5m2 (194sq ft)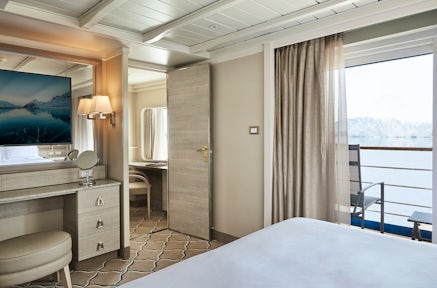 Royal Suite
Option of 1 or 2 bedroom configuration (by combining with adjoining Veranda suite)
Large glass door connecting to veranda with patio furniture
Twin or queen-sized beds
Living room with sitting area
Separate dining area
Private ensuite facilities with hair dryer
Writing desk, flat screen TV, Bang & Olufsen audio system, complimentary WiFi access, coffee machine, personal safe
Veranda 1 is 12m2 (126sq ft) and veranda 2 is 16.5m2 (175sq ft)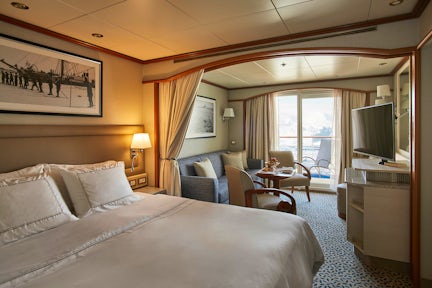 Silver Suite
Three guests capacity
Large glass door connecting to 8m2 (92sq ft) veranda with patio furniture
Twin or queen-sized beds
Living room with sitting area featuring a convertible sofa to accommodate an additional guest
Separate dining area
Private ensuite facilities with hair dryer
Writing desk, flat screen TV, Bang & Olufsen audio system, complimentary WiFi access, coffee machine, personal safe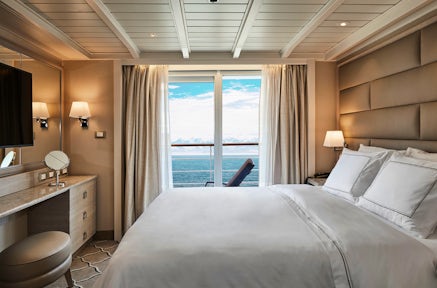 Trips onboard the Silver Cloud
Onboard Communciations & Facilities
If you wish to stay in touch, even in the Arctic, you can choose from the options below:
Internet & wifi: $30/1 day; $50/2 days; $250/1000min
Ship-based email: available for a nominal fee
Satellite phone card: available for purchase
Mail: prior to departure, you will receive a list of port addresses where your mail can be delivered; mailing services are available onboard
Fax: fax reception is complimentary, transmissions are available at an additional cost. B&W printer is also available in the Cafe
Please note that this is only for light data traffic and that the above prices are only approximate. You can check your personal emails using the onboard computers to connect to the Internet and also by connecting to wifi to use your own device. The ship is reachable via e-mail or phone. Mailing services are limited in the Arctic.
Other facilities include:
Plugs: European 220V two-round-pinned sockets & North American 120V two-flat-pinned sockets
Towels, toiletries and hair dryers
Laundry service (additional cost)
Find Your Arctic Ship
Making the correct choice of ship is key. With firsthand experience of all of the ships we offer, let Swoop help guide you to exactly the right one.
Find your Arctic Ship
Ready to Book Your Arctic Adventure?
1
Listen
We'll spend some time listening to your aspirations, then discuss the kind of experience that might suit you.
2
Match
Next we'll discuss the options, shortlist the best trips for you and present you our impartial recommendations.
3
Reserve
We'll place a 24 hour hold on your preferred option - without obligation - whilst we talk through the details.
Our team of experts are ready to help you with any questions about a trip to the Arctic.