What kind of food can I expect?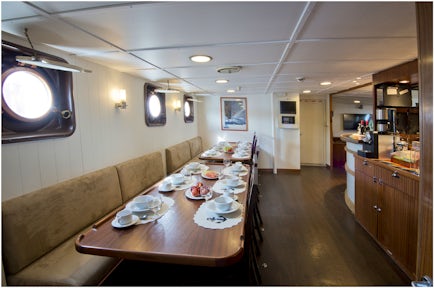 On the expedition ships the food is typically tasty and plentiful. It is eaten in a shared dining room with refectory-style seating.

Breakfast is always a buffet, while lunch and dinner are usually served. Both lunch and dinner are three-courses with a choice of both starter and main course. Tea and coffee is always available.

Land-based expeditions tend to be fully catered for but the food is often very simple, reflecting the remoteness of your location.
Dietary requirements
Arctic vessels are very experienced at catering to all needs, whether you are vegetarian, gluten-free or have certain dislikes or allergies.

Remember to write any requirements on your pre-voyage forms, and in case of a strong food allergy, we recommend you introduce yourself to the Hotel Manager or Head Waiter before the first meal.