Trip Summary and Itinerary Map
13 full days of exploring - 4-5 days on Wrangel Island
The chance to see polar bears in significant numbers
Starts and ends in Nome, Alaska
Travelling aboard a sturdy former research vessel with just over 50 fellow passengers
Optional overland traverse of Wrangel by 6-wheel tundra vehicle
Operator's Itinerary
Day 1: Nome, Alaska
Our expedition begins and ends in Alaska's most famous gold rush town. The captain and expedition team will be waiting to welcome you aboard your vessel and you will have the opportunity to settle into your accommodation and familiarise yourself onboard before joining your fellow expeditioners on deck as we set sail across the Bering Strait and the International Date Line towards Provideniya, Russia.

---
Day 2: Provideniya, Russia
After clearing Russian customs and immigration, there may be an opportunity to explore this fascinating former Soviet military port and administrative centre followed by an afternoon expedition.

---
Day 3: Yttygran Island & Gil'mimyl Hot Springs
Yttygran Island is home to the monumental ancient aboriginal site known as Whale Bone Alley, where whale bones stretch along the beach for nearly half a kilometre. There are many remains of a busy whaling camp that united several aboriginal villages at a time. Immense bowhead whale jawbones and ribs are placed together in a stunning arch formation and grey whales are frequently seen around the island. We will take the Zodiacs on a whale-watching excursion and in the afternoon, make a landing at the Gil'mimyl hot springs. They are a short walk from the coastline, but well worth the effort and with a chance to explore the tundra for birds, plants and animals as we walk to and fro. After a soak in the hot springs we will return to the ship for a relaxing evening.
---
Day 4: Bukhta Pultin and Cape Dezhnev
This morning there may be an opportunity to enjoy a Zodiac trip in Bukhta Pultin. Beyond its narrow entrance this sheltered and rarely-visited bay opens revealing a new world. Explore the coastline, fields of wildflowers, look for wildlife or hike up the ridgeline and take in the impressive helicopter view.
In the afternoon we plan to be at Cape Dezhnev, the most north-eastern point of the Eurasian continent. The cape commemorates the accomplishment of the Cossack Semyon Dezhnev, the first European to sail through this strait in 1648 (80 years before Bering did). Weather permitting, there is a lighthouse, a monument and the remains of a border guard base here to explore.
---
Day 5: Kolyuchin Island &
Kolyuchin Inlet
This small island was once an important Russian Polar Research Station and one of a number dotted across the Arctic. Near the derelict buildings are some of the most spectacular bird cliffs in the Arctic where puffins, guillemots and gulls can be observed and photographed up close.
So huge that it is visible from satellite photos, the inlet contains vast numbers of waterfowl and migratory waders. The visit is concentrated on the Belaka Spit near the mouth of the inlet. It is a wild, desolate landscape that is strangely beautiful. Search the dunes and tidal areas for birdlife including emperor geese and spoon-billed sandpipers. Grey whales frequent the area and are sometimes spotted feeding only metres offshore.
---
Days 6-10: Wrangel & Herald Islands
Ice and weather conditions permitting, spend the next few days on Wrangel Island and the expedition team will also attempt to include a visit to nearby Herald Island. There are many landings that can be made to search out wildlife, wild flowers and Arctic landscapes. Polar bears will be high on the list of animals to see and with a little patience you should be rewarded with a number of encounters. Musk oxen and reindeer were introduced to the island in 1975 and 1948 though reindeer numbers are low.
You also have a chance to visit Dragi Harbour where the survivors of the Karluk which was crushed by ice in 1914 scrambled ashore and lived until they were rescued. Wrangel Island is a Russian Federal Nature Reserve of international significance and importance particularly as it is a major polar bear denning area. Also each summer thousands of birds migrate here to breed, including snow geese, snowy owls, skuas, Arctic terns, Ross's, Sabine and ivory gulls.
---
Day 11: North Siberian Coast
Bounded by narrow sand ridges with numerous lagoons and inlets, this area offers plenty of places to land and explore this extensive coastline. You will be on the lookout for whales, walrus and other wildlife. You will see Chukchi villages whose residents survive in an unforgiving climate, hunting seals and whales just as their ancestors did.
---
Day 12: Unnamed Bay and Lavrentiya
Picturesque Unnamed Bay is our planned destination for this morning; with an expansive stretch of beach, backed by a lagoon and surrounded by rugged hills, there's much to discover. Enjoy a walk along the beach and tundra looking for wildlife, or scale one of the nearby peaks and take in the stunning vistas.
Dropping anchor in beautiful Lavrentiya Bay, we expect to spend the afternoon exploring its historically and culturally rich village. A former indigenous settlement, this Soviet-planned community was established in the 1920s as an administrative centre where local Chukchi and Siberian Yupik were encouraged to move to. We plan to visit the Lavrentiya museum, meet local elders and enjoy an authentic taste and slice of village life in the main square.

---
Day 13: Bukhta Penkingney & Arakamchechen Island
This morning we will be launching our Zodiacs to land at Bukhta Penkingney, a long fjiord cut into the coastline by glaciers and a popular spot for whale watching. Will be looking for Arctic ground squirrels and pikas, willow ptarmigan, sandhill cranes and brown bears attracted by the berries and salmon-filled river. The afternoon is a cruise over to Arakamchechen Island just north of Cape Chaplino and separated from the Chukotka mainland by the 8km (5 mile) wide Senyavina Strait. Having watched grey whales feeding here previously, we recommend being out on deck as we slowly cruise through the strait. On Arakamchechen Island we will explore the lush tundra and, if they are present, view the prominent walrus haul out.

---
Day 14: Provideniya
Ater clearing Russian Customs and Immigration in Provideniya we will set sail, returning to Nome, across the Bering Strait. One of the world's most nutrient-rich stretches of water, each spring the Bering Strait is the scene of one of the planet's largest wildlife migrations. Beluga, bowhead and grey whales, walrus, ringed seals and numerous seabirds are all known to frequent the strait so there is plenty of opportunity for wildlife encounters. Join the expedition team for a recap and disembarkation briefing before enjoying a farewell dinner to celebrate our journey, as we sail back across the International Date Line.
---
Day 15: Nome, Alaska
After breakfast and clearing US Immigration and Customs formalities, it will be time to say our farewells. There will be a complimentary transfer to take you to the airport or a designated central location.

---
NOTE: This itinerary is for guidance only as each voyage will vary depending on ice and weather conditions, and opportunities to see wildlife. Flexibility is key and all part of the adventure of an expeditionary cruise.

About The Ship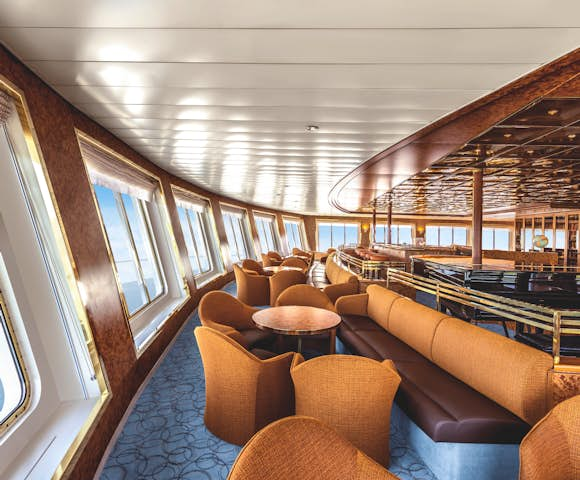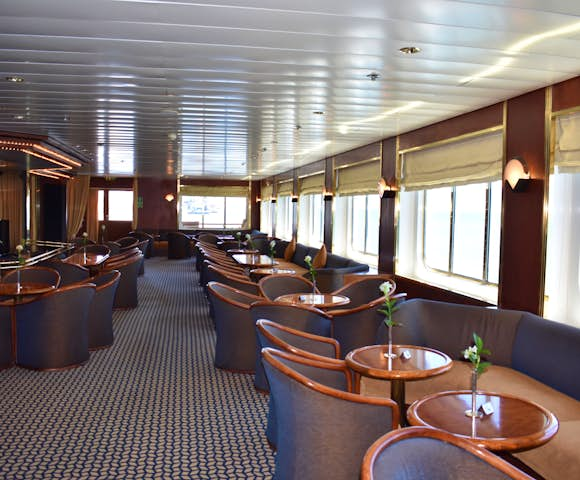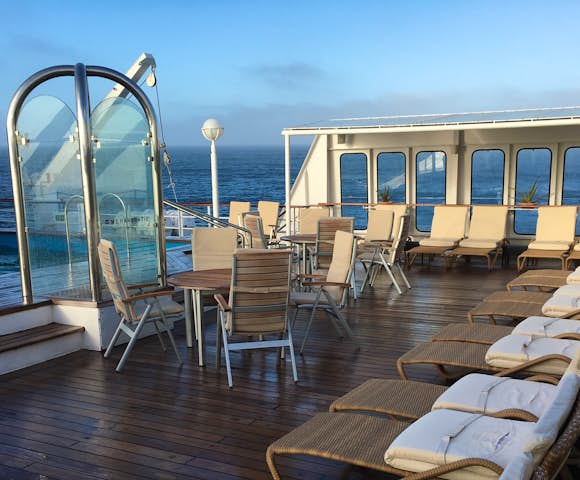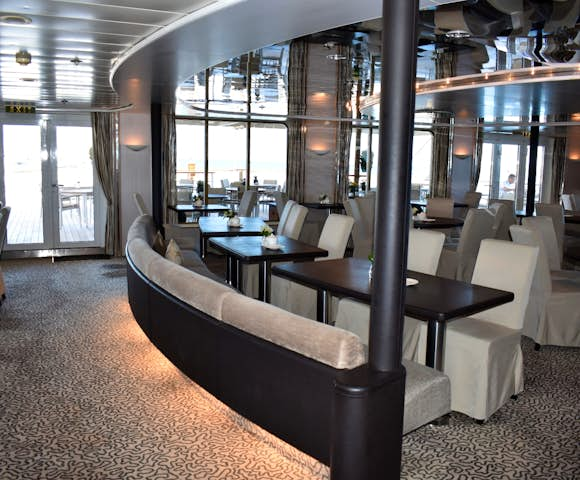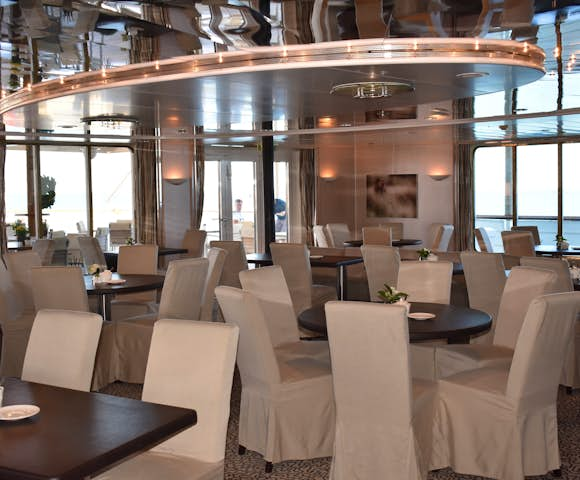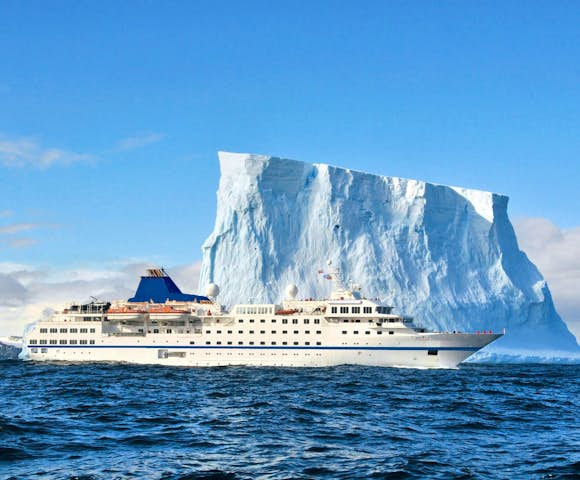 Purpose built in Finland in 1993 for polar expedition
Carries one of the highest ice class ratings (Lloyds A1s)
Very spacious cabins and panoramic public areas
Choice of two dining rooms and two large observation lounges
Spa, sauna and steam room facilities and a well-equipped gym
Prices, Departures and Inclusions
Prices quoted below are per person based on 2 people sharing. Cabin availability changes all the time so please contact us for up-to-date details and information on specific cabin availability.

This trip can run as a group trip, with prices starting from $10,400 per person for a complete group. If you are looking to join a group or you are a solo traveller we will help to form likeminded groups of travellers. Please let us know your travel plans.
The trip can also run on a private basis to fit around your plans. Departures may be tailored and can be set up on a date of your choice. Please note that there is a higher price for smaller groups. Please enquire for further details.
Additional Notes
The charter flights at the beginning and end of the voyage cost an additional $2,000 per person on top of the voyage price.
Additional charges
Local Payment of Landing Fee: US$500 per person

Overland Traverse of Wrangel Island: US$1,450 per person

Single Supplement And Child Policy
For those travelling solo and want their own cabin, the single supplement in a twin cabin is 1.7 times the cost of a single berth. However, there is no single supplement for passengers willing to share a cabin.

Includes
Voyage aboard the vessel as indicated in the itinerary
Accommodation during the voyage on full board basis
All shore excursions and zodiac activities
Educational lectures by expert onboard polar guides
Access to an onboard doctor and basic medical services
Loan of rubber boots for the voyage's duration
Comprehensive pre-departure information
Port taxes and any entry fees to historic landing sites
Excludes
Flights to & from points of embarkation/disembarkation
Any additional services before & after your voyage
Transfers not specific to the itinerary
Travel insurance
Optional adventure activities
Any visa, passport and vaccination expenses
Airport arrival or departure taxes
Items of a personal nature: laundry, beverages, etc
Customary staff gratuity at the end of the voyage
Additional onboard purchases (i.e. gift shop)
Questions about this Voyage?