Life before Swoop
I studied Travel and Tourism at college, which led to a data entry/admin job within the travel industry. Following this, I spent 12 years working in sales and customer support for an adventure travel company. During my time there, I was able to travel to a number of countries including Egypt, Myanmar, Canada, Costa Rica, the USA and parts of Europe.
It was during this time that I had my first experience of Polar travel. I was lucky enough to travel to the Antarctic Peninsula, which was subsequently followed by a trip to the Arctic and the Norwegian fjords. This sparked a passion in me for all things Polar, which ultimately led me to Swoop.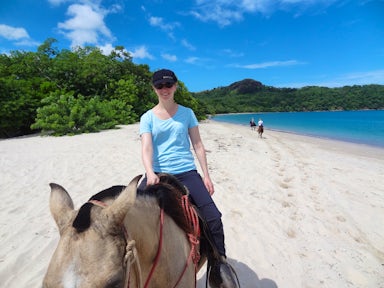 Horse riding in Tamarindo, Costa-Rica
My Arctic Experience
I travelled to the Arctic in 2017 aboard the Expedition, starting in Bergen and taking in the Norwegian fjords before finishing with time in Svalbard. The scenery was breathtaking and being so immersed, in experiencing it from the water, was incredible.
We saw so much wildlife including whales, reindeer and seals. However, being able to see the towns and villages and experience the Norwegian culture also added another layer to the trip and made me fall in love with Norway.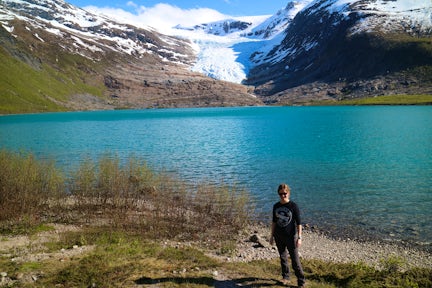 Visiting Svartisen Glacier, Norway
Day to day at Swoop
As part of Swoop's Polar Customer Experience Team, I am responsible for ensuring a smooth experience for our customers' Polar adventures, taking care of the details and assisting with any questions that you may have. I look forward to helping you prepare for the trip of a lifetime!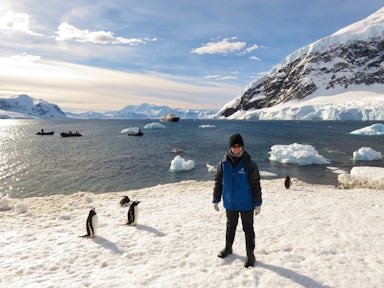 Penguin watching on a sunny Antarctic day