Operator's Itinerary
Day 1 - Reykjavik, Iceland:
Sprawling Reykjavík, the nation's nerve center and government seat, is home to half of Iceland's population. On a bay overlooked by proud Mt. Esja (pronounced eh-shyuh), with its ever-changing hues, Reykjavík presents a colorful sight, its concrete houses painted in light colors and topped by vibrant red, blue, and green roofs. In contrast to the almost treeless countryside, Reykjavík has many tall, native birches, rowans, and willows, as well as imported aspen, pines, and spruces.
Reykjavík's name comes from the Icelandic words for smoke, reykur, and bay, vík. In AD 874, Norseman Ingólfur Arnarson saw Iceland rising out of the misty sea and came ashore at a bay eerily shrouded with plumes of steam from nearby hot springs. Today most of the houses in Reykjavík are heated by near-boiling water from the hot springs. Natural heating avoids air pollution; there's no smoke around. You may notice, however, that the hot water brings a slight sulphur smell to the bathroom. Prices are easily on a par with other major European cities.
A practical option is to purchase a Reykjavík City Card at the Tourist Information Center or at the Reykjavík Youth Hostel. This card permits unlimited bus usage and admission to any of the city's seven pools, the Family Park and Zoo, and city museums. The cards are valid for one (ISK 3,300), two (ISK 4,400), or three days (ISK 4,900), and they pay for themselves after three or four uses a day. Even lacking the City Card, paying admission (ISK 500, or ISK 250 for seniors and people with disabilities) to one of the city art museums (Hafnarhús, Kjarvalsstaðir, or Ásmundarsafn) gets you free same-day admission to the other two.
---
Day 2 - At Sea:

Days at sea are the perfect opportunity to relax, unwind and catch up with what you've been meaning to do. So whether that is whale watching from the Observatory Lounge, writing home to your loved ones or simply topping up your tan by the pool, these blue sea days are the perfect balance to busy days spent exploring shore side.
---
Day 3 - Skoldungen:

Located on Greenland's relatively rarely visited rugged east coast, Skoldungen Fjord has enchanting scenery with towering mountains tipped with snow, ice-scraped valley sides and sculptured icebergs in shades of white and blue. At the top of the fjord one can easily see the retreating state of the Thrym Glacier. The U-shaped fjord offers spectacular scenery and as an extra perk, it is not uncommon to see whales in the fjord.
---
Day 4 - Cruise Prince Christian Sound & Visit to Aapilattoq:

Connecting the Denmark Strait with Davis Strait, Prins Christian Sund offers a protected course from southeastern to southwestern Greenland, and is one of south Greenland's most dramatic natural features. The water is generally placid and the crisp scent of ice fills the air. On either side of the Sund, waterfalls stream down sharp, wrinkled mountainsides. Depending on weather conditions, icebergs that glitter in the sun may be constant companions during the passage. Born of compacted ancient snows that formed glaciers and now calve into the sound at the glacier's edge, each iceberg is different from the next.
Aapilattoq is a small settlement near the western end of Prins Christian Sund in southwestern Greenland. In the local Greenlandic language the name means "sea anemone". This small village of 130 inhabitants, hidden behind a prominent rock, offers a good insight into the life of Greenlandic Inuit. A stroll through the village will reveal a small school and a church, along with the likely possibility of seeing a polar bear skin drying in the wind behind a local dwelling. People have lived off the land in the area around Aapilattoq since the 19th century. The tradition continues today as most people here hunt and fish to make a living.
---
Day 5 - Nanortalik:

Nanortalik lies in a scenic area surrounded by steep mountainsides and is Greenland's tenth-largest and most southerly town with less than 1500 inhabitants. The town's name means the "place of polar bears", which refers to the polar bears that used to be seen floating offshore on summer's ice floes. Nanortalik has an excellent open-air museum that gives a broad picture of the region from Inuit times to today. Part of the exhibition is a summer hunting camp, where Inuit in traditional clothing describe aspects of their ancestors' customs and lifestyle.
---
Day 6 - Qaqortoq & Hvalsey:

The largest town in southern Greenland, Qaqortoq has been inhabited since prehistoric times. Upon arrival in this charming southern Greenland enclave, it's easy to see why. Qaqortoq rises quite steeply over the fjord system around the city, offering breathtaking panoramic vistas of the surrounding mountains, deep, blue sea, Lake Tasersuag, icebergs in the bay, and pastoral backcountry. Although the earliest signs of ancient civilization in Qaqortoq date back 4300 years, Qaqortoq is known to have been inhabited by Norse and Inuit settlers in the 10th and 12th centuries, and the present-day town was founded in 1774. In the years since, Qaqortoq has evolved into a seaport and trading hub for fish and shrimp processing, tanning, fur production, and ship maintenance and repair.
Northeast of Qaqortoq and at the end of a fjord, Hvalsey is one of the best examples of South Greenland's many scattered ruins from the Norse period. Today the area is used for sheep-grazing, but until the 15th century the settlement at Hvalsey, and specifically Hvalsey's church, played an important role. Christianity had spread its influence throughout Europe and eventually had reached remote Greenland, where it established itself in the country in 1000 AD. Hvalsey Church was built in the 14th century and is the best preserved of the churches in Greenland from that period. Apart from the church walls, historical ruins from the time of the Norse are just a few metres away.
---
Day 7 - Qassiarsuk & Itilleq:

Qassiarsuk is the newer, Greenlandic name for this small village. Brattahlid is the older, Norse name. Here we tour the foundation remains of the manor house of Erik the Red, who discovered Greenland after being banished from Iceland and Norway for murder. We will also visit the site of the first Christian church ever built in North America (physiographically speaking), see a recently unearthed Norse graveyard that contains remains of 144 Norse colonists, and have a chance to admire Hans Lynge's remarkable bronze sculpture of Erik the Red.
Itilleq is an idyllic little village located on a small island about a half a mile off the west coast of Greenland, and only about a mile north of the Arctic Circle. It is one of the most picturesque villages in Greenland with quaint colorful houses surrounded by stunning rugged mountains and glaciers. Originally, the village of Itilleq was founded on another island in 1847, but was later moved to its present location. The 100 people living here today survive mainly on hunting and fishing, with a fish factory being the main employer.
---
Day 8 - Day at Sea:

Days at sea are the perfect opportunity to relax, unwind and catch up with what you've been meaning to do. So whether that is whale watching from the Observatory Lounge, writing home to your loved ones or simply topping up your tan by the pool, these blue sea days are the perfect balance to busy days spent exploring shore side.
---
Day 9 - Nuuk:

Nuuk, meaning "the cape", was Greenland's first town (1728). Started as a fort and later mission and trading post some 240 kilometers south of the Arctic Circle, it is the current capital. Almost 30% of Greenland's population lives in the town. Not only does Nuuk have great natural beauty in its vicinity, but there are Inuit ruins, Hans Egede's home, the parliament, and the Church of our Saviour as well. The Greenlandic National Museum has an outstanding collection of Greenlandic traditional dresses, as well as the famous Qilakitsoq mummies. The Katuaq Cultural Center's building was inspired by the undulating Northern Lights and can house 10% of Nuuk's inhabitants.
---
Day 10 - Evighedsfjord Fjord, Evigheids Glacier & Kangaamiut:

Within roughly an hour of steaming south from Kangerlussuaq Fjord is Evighedsfjord Fjord. The fjords in this area can reach close to a kilometer (over half a mile) of depth and are lined with tidewater glaciers from the Maniitsoq ice sheet located high up in the interior of Greenland. Some of the cliffs along the fjords of this region can exceed 2000 metres (6600 ft.) in height.
The Evigheids Glacier flows from the Greenland Ice Sheet (the second largest ice body in the world after the Antarctic Ice Sheet) to the west. It is a slow-moving tidewater glacier, meaning this valley glacier winds down through the coastal mountains to the ocean at a snail's pace. As the glacial ice enters the water it begins to float and the eventually breaks apart into icebergs that float away down the fjord. The shades of blue and carved shapes of these ice floes are infinite.
Only 350 people live in the small Greenlandic community of Kangaamiut. Located on the south coast of Timerdlit Island and facing the Davis Strait, Kangaamiut is situated between the mouths of two long fjords: the Kangerlussuatsiaq Fjord (or Evighedsfjorden in Danish) to its south and to its north Kangaamiut Kangerluarsuat Fjord. Founded in 1755, it was called "Sugarloaf" (Sukkertoppen) because of the appearance of three nearby hills.
---
Day 11 - Ilulissat:

Known as the birthplace of icebergs, the Ilulissat Icefjord produces nearly 20 million tons of ice each day. In fact, the word Ilulissat means "icebergs" in the Kalaallisut language. The town of Ilulissat is known for its long periods of calm and settled weather, but the climate tends to be cold due to its proximity to the fjord. Approximately 4500 people live in Ilulissat, the third-largest town in Greenland after Nuuk and Sisimiut. Some people here estimate that there are nearly as many sled dogs as human beings living in the town that also boasts a local history museum located in the former home of Greenlandic folk hero and famed polar explorer Knud Rasmussen.
---
Day 12 - Sisimiut:

Located just north of the Arctic Circle, Sisimiut is the northernmost town in Greenland where the port remains free of ice in the winter. Yet it is also the southernmost town where there is enough snow and ice to drive a dogsled in winter and spring. In Sisimiut, travelling by sled has been the primary means of winter transportation for centuries. In fact, the area has been inhabited for approximately 4500 years. Modern Sisimiut is the largest business center in the north of Greenland, and is one of the fastest growing Greenlandic cities. Commercial fishing is the lead economy in the town's thriving industrial base.
---
Day 13 - Kangerlussuaq

Kangerlussuaq is a settlement in western Greenland in the Qeqqata municipality located at the head of the fjord of the same name (in Danish: Søndre Strømfjord). It is Greenland's main air transport hub and the site of Greenland's largest commercial airport. The airport dates from American settlement during and after World War II, when the site was known as Bluie West-8 and Sondrestrom Air Base. The Kangerlussuaq area is also home to Greenland's most diverse terrestrial fauna, including muskoxen, caribou, and gyrfalcons. The settlement's economy and population of 512 is almost entirely reliant on the airport and tourist industry.
About The Ship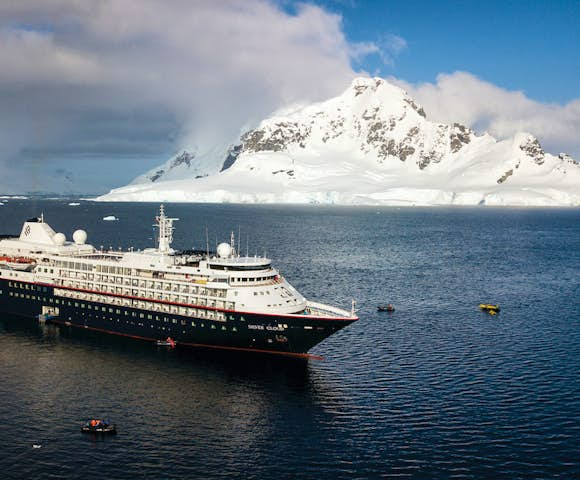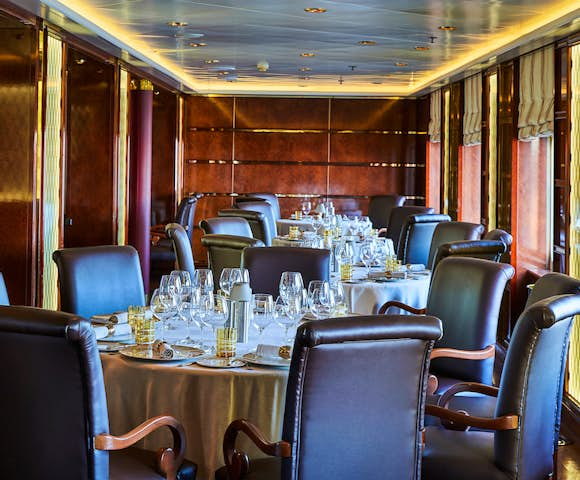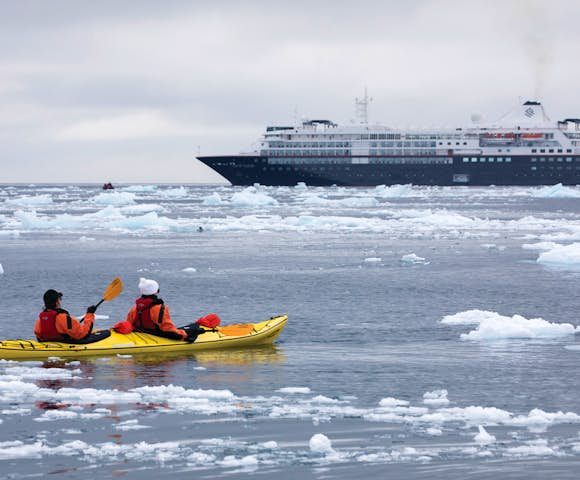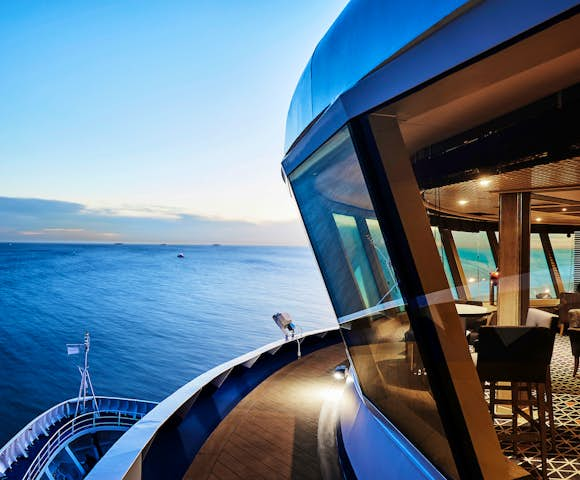 Fully refurbished in 2016 she has been redesigned for polar exploration in serious comfort
Some of the largest suites on any ship, most of which with private balconies
A staff to passenger ratio of very nearly 1:1
Despite her size she's fast, capable of cruising at 17 knots
Four restaurants on board including a Relais & Chateaux option
An incredible attention to detail
A fully dedicated expedition crew of 20+ experienced polar specialists
Prices, Departures and Inclusions
Prices quoted below are per person based on 2 people sharing. Cabin availability changes all the time so please contact us for up-to-date details and information on specific cabin availability.

This trip can run as a group trip, with prices starting from $14,982 per person for a complete group. If you are looking to join a group or you are a solo traveller we will help to form likeminded groups of travellers. Please let us know your travel plans.
The trip can also run on a private basis to fit around your plans. Departures may be tailored and can be set up on a date of your choice. Please note that there is a higher price for smaller groups. Please enquire for further details.
Additional Notes
Optional Adventure Activities:
Kayaking included on a first come first served basis and booked onboard.

Single Supplement And Child Policy
For those travelling solo and want their own cabin, the single supplement in a twin cabin is 2 times the cost of a single berth. There is no option to share cabins with other travellers.

There is no official minimum age to be on the ship, however you must be five to board a zodiac (effectively ruling out landings for younger children).

Includes
Economy Class roundtrip to and from points of embarkation/disembarkation (when booked as early booking)
Complimentary parka jacket

Voyage aboard the vessel as indicated in the itinerary
Accommodation during the voyage on full board basis
24 hour butler service
Open bar for duration of voyage
Unlimited free Wi-Fi
Onboard gratuities
Loan of rubber boats for the voyage's duration
All shore excursions and zodiac activities
Educational lectures by expert onboard polar guides
Access to an onboard doctor and basic medical services
Comprehensive pre-departure information
Port taxes and any entry fees to historic landing sites
Excludes
Flights to and from points of embarkation/disembarkation

Any additional services before and after your voyage
Transfers not specific to the itinerary
Travel insurance
Optional adventure activities
Any visa, passport and vaccination expenses
Airport arrival or departure taxes
Items of a personal nature: laundry, spa treatments, table reservations, etc
Additional onboard purchases (e.g. gifts)
Questions about this Voyage?