Why we like Camp Kiattua
2 hours by boat or 20 minutes by helicopter from Greenland's capital, Camp Kiattua is both a secluded retreat and a prime spot for Arctic activities
Customise your itinerary with a choice of boat cruises, kayaking, fishing trips, Arctic swimming, or a helicopter tour of the ice cap
Experience a luxurious take on ancient simplicity, unwinding in the sauna tent and gazing at the Nuuk Fjord icebergs as you soak in the outdoor hot tub
All meals and beverages are included; the camp's award-winning chef creatively prepares dishes that celebrate fresh, local produce
Upon arrival, get acquainted with the wonders of the region with an introductory waterfall hike leading to an astounding view of the Kiattua valley
Excursions
Camp Kiattua is all about your unique experience of this dazzling corner of the island. You have the freedom to plan your own itinerary, choosing one to two activities per day. Excursions are part of your package and include sailing and kayaking amongst icebergs, fishing like the Inuits, hiking and swimming in the glassy Greenland ocean. For a supplement, a helicopter tour to the ice cap and Viking Norse ruins can be booked.
From arrival at the camp the adventure begins to unravel with a waterfall hike, reaching a spectacular viewpoint of Kiattua Valley. This will also provide the opportunity to meet the guides and discuss excursions.
Boat Cruises
Venture deep into the Nuuk fjord system and appreciate its sheer breadth and complexity as you sail past glaciers, peaks, waterfalls and bays. If you're seeking a truly exhilarating challenge, climb into your survival suit and experience swimming in the Arctic waters.
After a scenic lunch, enjoy exploring by foot with an afternoon hike. Take your camera to capture the contrasting Arctic topography and coastal highlights.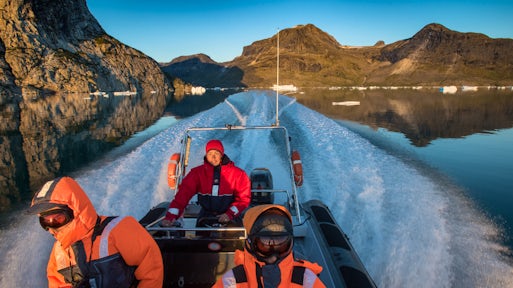 Hiking
The camp is a magnificent base from which to set out on varied hikes. With a diverse range of terrains, you can decide the intensity of your trek, from relaxed to an ascent to the region's tallest mountain (1,650m). You can also combine half or full-day day hikes with thrilling boat trips, fishing in some of the world's best spots for Arctic char, or discovery of the fascinating Viking ruins.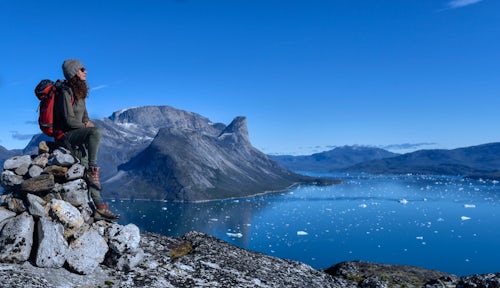 Kayaking
Following an introduction to kayaking in the area led by expert Nomad guides, and with their oversight as you take on the waters, launch into the fjord in your kayak. Whether or not it's your first time in a kayak, this opportunity to navigate the pristine Arctic waters and map out your own route amid the dramatic cliffs is popular with all.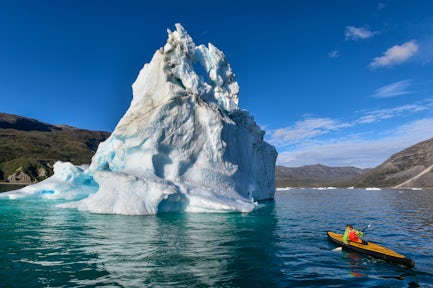 Fishing
Located in one of the world's best destinations for Arctic char fishing, Camp Kiattua have coordinated a specialised excursion of their favourite spots. Provided with suitable gear, fish to your heart's content and then return to camp with your catches and the chef will craft a freshly-caught dinner.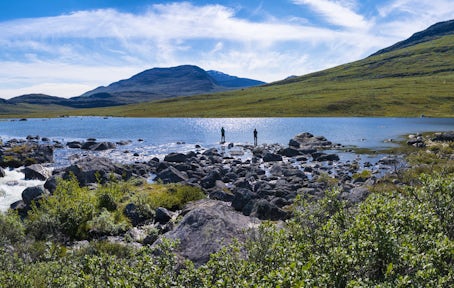 The Inuit Experience
Step into the life of an Inuit for the day. Begin with a boat trip to the Kapisillit area, where you can fish with bare hands in this famed Greenlandic Salmon breeding spot.
After a lunch eaten overlooking the river, spend the afternoon exploring the traditional fishing and hunting settlement of Kapisillit and meeting those that call the village home. This is a great opportunity to embrace the traditions of the region and glimpse into life outside of the capital.
Swoop says
There is nowhere else like Kiattua in Greenland, this is a unique opportunity to camp in untouched wilderness in such luxury. The attention to detail shown by the hosts, Jon and Anika, really makes the most of this astounding location.

About Camp Kiattua
Location
Camp Kiattua is around 80km from Nuuk and only reachable by boat (around 2hrs) or helicopter (20 mins). Once you arrive you'll be in ancient scenery surrounded by mountains that are said to be 3.8bn years old, and no sign of modern life beyond the tents. From here you can spend the day exploring on foot or by water, and then the evening relaxing with just the sound of cracking ice in the bay and fire in the pit.

Cuisine
All your meals at Kiattua are included and prepared by their award-winning chef, Rune Collin, who brings a modern twist to traditional Greenlandic dishes. You will regularly find him and his team foraging for local produce, from mushrooms and berries, to mussels and Angelica (a local herb). They also work wonders with any fish you catch while you're there!

History
A stay at Kiattua is a truly customized experience. When you first arrive you'll go on a hike to the local waterfall. This is both an introduction to the camp and a chance to chat to your guide about the activities on offer and how each day will be planned. This means that anyone is welcome to stay at the camp and you will be able to choose your activities as you go.

Rooms & Pricing
It's €950 per person per night fully inclusive of all meals, drinks, excursions and transfers from Nuuk. You can hire the whole camp on an exclusive basis, or individual tents.
Stay at Camp Kiattua with these trips
Arctic Guide
The Arctic is so vast and diverse that one of the biggest challenges is knowing where to begin. Our exclusive guide will help you get started with your travel plans.
Download Guide
Ready to Book Your Arctic Adventure?
1
Listen
We'll spend some time listening to your aspirations, then discuss the kind of experience that might suit you.
2
Match
Next we'll discuss the options, shortlist the best trips for you and present you our impartial recommendations.
3
Reserve
We'll place a 24 hour hold on your preferred option - without obligation - whilst we talk through the details.
Our team of experts are ready to help you with any questions about a trip to the Arctic.