About me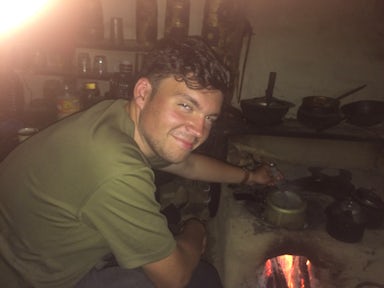 Life before Swoop
I have been fortunate enough to have travelled to some phenomenal places around the world and learn about the extraordinary communities that call those places home. I arrived in Nepal a year after the 2015 earthquake and was involved in some truly inspiring and life-changing projects. I began working on my book back in late 2017 and I have greatly enjoyed researching and sharing the story of one of the most underappreciated great polar explorers, James Clark Ross. When I am not thinking about all things polar, I am hill climbing in the Welsh mountains or rambling around the UK.
Day to day at Swoop

I spend my day engaging with people about the fantastic wildlife, geography and history of the Arctic and Antarctic. I answer a wide range of questions people have about our amazing voyages and the polar regions so they feel as well prepared as possible for their adventure. It is a great privilege to help send people on what is truly a trip of a lifetime, and share in their excitement.
The next adventure
To follow in the footsteps of the great polar pioneers and venture into the Northwest Passage, or retrace the last hours of Shackleton's extraordinary journey across South Georgia to salvation; both would be incredibly emotional and profound. To stand where those great explorers once stood and to look out to where they gazed would fulfil a childhood dream and likely be the beginning of an obsession!

Tennessee's guide on how to find a polar bear
Ready to Book Your Arctic Adventure?
1
Listen
We'll spend some time listening to your aspirations, then discuss the kind of experience that might suit you.
2
Match
Next we'll discuss the options, shortlist the best trips for you and present you our impartial recommendations.
3
Reserve
We'll place a 24 hour hold on your preferred option - without obligation - whilst we talk through the details.
Our team of experts are ready to help you with any questions about a trip to the Arctic.