Equipment
Choosing the right camera for your trip can be overwhelming, and everyone has their own opinion. One option that is recommended again and again is an SLR camera (Single Lens Reflex), as they tend to produce better quality photos.

Lenses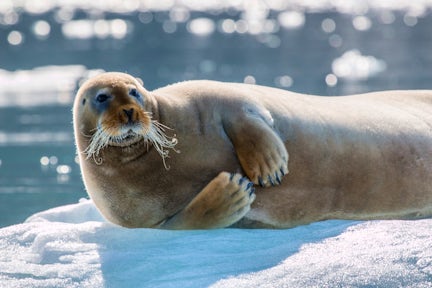 There are two main types of lens that you might consider bringing along:
A wide-angle lens is perfect for doing justice to the wide Arctic landscapes; it has a wider field of view, giving you the ability to capture as much of what you're seeing as possible. They also have a great depth of field, meaning the photo will really draw you in and be pin-sharp across the whole image. Consider a 16-35mm f4.
With all the amazing wildlife in the Arctic, it would be crazy not to take a zoom lens with you. The wildlife in the Arctic is often shy and quite far away from your ship. Therefore, you'll need a good telephoto lens to get those beautiful portrait shots or action shots. Because telephoto lenses are so punched in, they compress the landscape, bringing the subject and the background closer together. This also makes for nice shallow depth of field images which create a beautiful blur or 'bokeh' behind the animal, demonstrated in the seal image to your left. Our resident photographer, Burnham, really loves the 100-400mm f4.5. Be careful though, the more powerful the telephoto lens, the bigger and heavier the lens will be.
Filters
As so much of the Arctic landscape is white, having a filter for your lens is highly important. One of the biggest issues with photos of snow scenes is that they end up overexposed. A ND (Neutral-Density) filter can help avoid this.

Polarising filters are also useful for darkening skies or removing glare from the sun on the sea or the snow, which is invaluable if you're on a boat surrounded by icebergs! You should be able to pick up both of these for a reasonable price. They are light too, so easy to pack.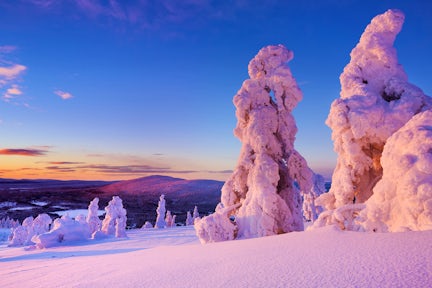 Molly says
Tripods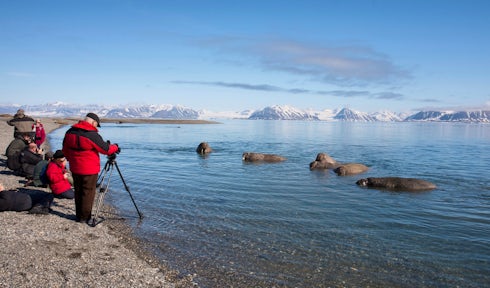 Although a good consideration, it's worth noting that most visitors to the Arctic will spend a lot of their time on a moving boat. If you do want to spend your time on land capturing stunning HDR landscapes and achieving different effects like motion blur on water, a tripod will be useful. You will probably have a day or two on land pre-cruise in which a tripod may come in handy.
Tripods can be quite heavy though unless you spend a lot of money on carbon fibre elements, so it's worth thinking about what kind of photos you will be taking and whether it's a worthwhile addition to your baggage. A monopod may be more useful on the ship, or a small gorilla pod that allows the legs to be manipulated around things such as ship railings and tree branches.
Weather
You're going to have to protect your camera from the elements - snow, rain and spray - while you're out on deck or on a zodiac. You could look at getting a camera that has Weather Sealing, meaning that the joints and buttons will be covered and sealed with rubber to reduce exposure to moisture and dust. However, this does not make the camera waterproof.
For full waterproofing consider purchasing a rain sleeve. This is not the most technical piece of kit (it's basically a plastic bag for your camera) but it should only cost you around £8/$10 and does the job.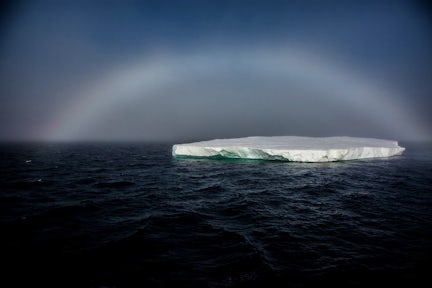 Swoop says
The cold conditions in the Arctic have a detrimental effect on your camera battery's life. To counter this it's worth bringing more than one battery and keeping your spare battery warm under your layers of clothing.

Using a Go-Pro
Go-Pro cameras are incredibly versatile: as well as a funky time-lapse feature, they are able to film underwater, so capturing humpbacks swimming under your zodiac is a real possibility. It's a good idea to invest in some accessories, like the selfie stick and clamps, and have some fun experimenting with the various cameras functions.
We suggest you get some practice before going on your trip as it can take some learning (especially the ones without an LCD screen on the back). You don't want to be spending time pushing the wrong button when that humpback is starring in the lens.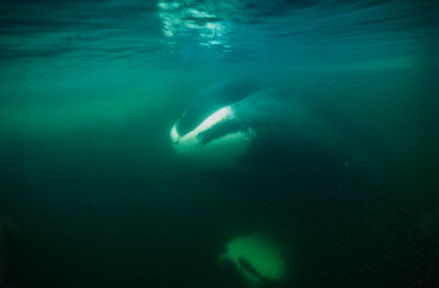 Point and shoot cameras
Although not nearly as high quality as a good DSLR camera, point and shoot cameras do have many positives. If you just want to take some pictures to remember your holiday and are not too serious about your photography, then point and shoot cameras are incredibly versatile options.
They are lightweight, super easy to use, and can often zoom in quite substantially. They are also cheaper than a DSLR and you won't have to spend money on different lenses.

Smartphones
There are a number of smartphones available with seriously good camera functions, some of which are capable of shooting in 4K. Many of our own films are shot on iPhones.
The advantages are clear, they are light and easy to carry and use, they recharge quickly and will even log the exact time and location of your shots. You can even buy additional lenses for very little to extend the functionality of your phone.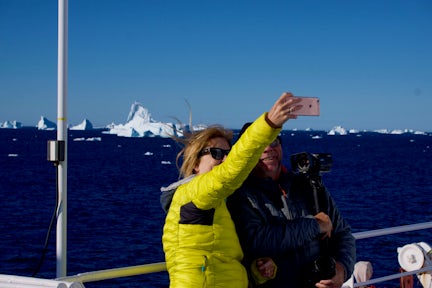 Top tips for photography in the Arctic
Bring a monopod
It is definitely worth bringing a monopod on your Arctic adventure given how often you'll be using a telephoto lens. Most telephoto lenses are quite long and heavy and having something that can take the weight off your arms is a real blessing, especially when a polar bear is spotted.
A monopod is also a great way of tracking birds in the sky more easily with your lens as it gives the arms something to rest on and move smoothly with.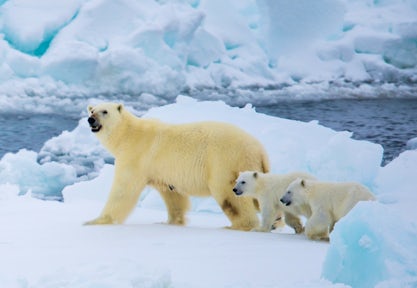 Polar bear with cubs, Spitsbergen
Show scale in your photos
The Arctic landscape is wide open, dramatic and stunning. Using a wide-angle lens and taking standard landscape shots doesn't always do the Arctic justice. To show your friends back home just how enormous the landscape is, try adding something recognisable into the image. Your ship is one option, but also photographing wildlife with a wide-angle lens is another great option.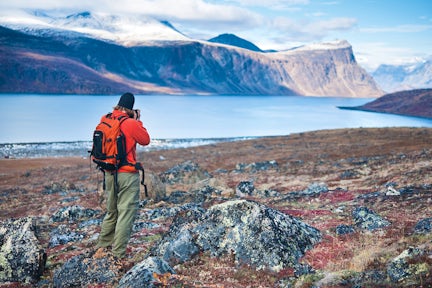 Capturing the colours of the Arctic landscape
Bring dry bags
Remember to take dry bags with you on your Arctic voyage. Often you'll be in a zodiac with water splashing over you and you'll want something lightweight to keep your camera dry. Dry bags are quick and easy to use and will make sure that no harm comes to your camera.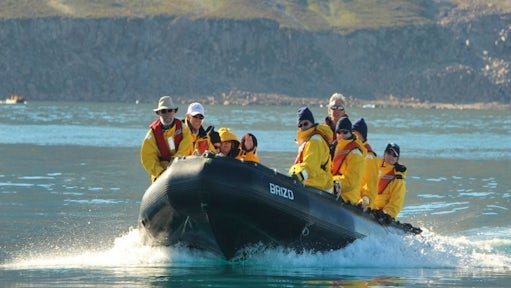 Know your camera and lenses
Always try to get familiar with your camera gear before your voyage. There is nothing worse than having an amazing wildlife encounter and fumbling around with your camera settings or lenses. Most Arctic voyages will employ an onboard photographic expert who will have a wealth of information when it comes to getting the most out of your imagery. Don't be afraid to ask questions!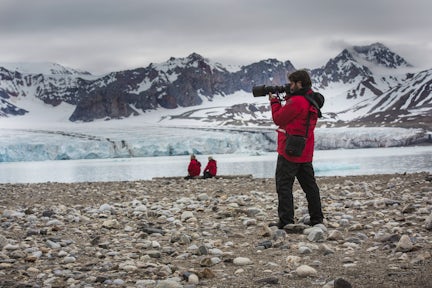 A traveller taking photographs
Avoid the grey snow effect
Thanks to all the snow and ice, the Arctic is incredibly bright, even during overcast days. Because of this, your camera will naturally under-expose when set to auto. The histogram will misread the landscape because of the bright snow and you'll be left with images full of grey snow and ice. To compensate, set your exposure compensation to +1 or +2. This will show as too bright on your histogram, but will actually be just right. Make sure to test different exposures to find what works for your camera.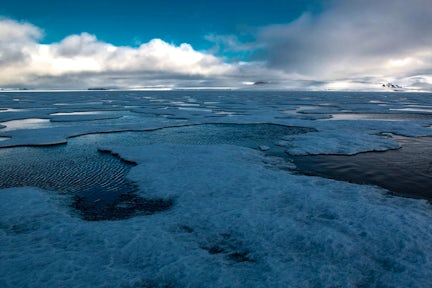 Get some photographic gloves
Given you'll be sailing in one of the coldest parts of the world, your hands are going to get cold, especially if there is a strong wind. Wildlife encounters can last for some time and you don't want to have your fingers exposed to the elements for too long.
Nowadays there is a myriad of glove options designed specifically for photographers. Most are thin insulation gloves that have responsive fingertips so you can still use a touch screen or move dials with ease.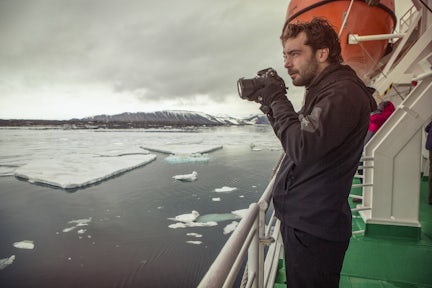 A traveller taking pictures from deck